Ah, magic. Does it ever get old? From the very first magic trick, we saw as a kid, to the countless magic trick shows you can view as an adult, magic tricks are one of the oldest entertainer professions there is. Most people watch in awe as a good magic trick is performed in front of their eyes, and the ones who don't get just as much out of it by trying to debunk and figure out what kind of trickery is unfolding. Magic is entertainment, pure and simple.
As a young kid, I first picked up magic as a hobby after seeing my neighbors' dad doing an assortment of cool card tricks on New Year's Eve. I couldn't fathom how he was able to pull off some feats of super human intellect. Magic tricks for children are some of the most awe-inspiring things for a young mind. It helps a child believe in the unknown and opens the door for limitless imagination of what possible in their known world. I mean don't you remember how you felt after seeing amazing magic tricks as a kid? I don't know anyone who didn't love that.
So now that we are reminiscing about the wonder of how to do magic, lets look at the of the best ways to enjoy this hobby and share your passion for entertainment with others.
Life of the party
We've talked a lot about the effects good magic tricks can have on the life of a child, but now it's time for the adults. If you're looking for a way to be the life of the party as an adult, awesome magic tricks are the way to go. Good magic tricks are a conversation starter, a mood lightener, or maybe just a way to impress your girlfriends/boyfriends parents for a rememberable first impression. Below, check out some of the most highly rated magic tricks that will go a long way towards you not having to worry about entertainment being at the party; you'll bring it with you.
Jim Stott's Ultimate Card Magic Kit is one of the best places to start to go from an amateur with a few cool tricks to being a full fletched magician. It has a range of simple card tricks to warm up the audience, to amazing card tricks that will keep onlookers guessing on how you could have possibly just blown their mind. This is the answer to learning how to do magic tricks, plain and simple.
Coolest Mom/Dad ever
Maybe you're staying in with the kids or hosting a neighborhood party filled with the whole neighborhood. I guarantee that pull off one of your cool card tricks will make all the neighborhood kids think you are the coolest mom/dad ever. You might also be thinking, I know there are plenty of easy magic tricks for kids, but what about the parents? Well, I here to tell you that one of the greatest gifts you can give a parent is the entertainment of their child. From thirty seconds to thirty minutes, parents will love that you're willing to share your good magic tricks with their kids. Besides the pure joy and entertain, you give Bill and Judy the chance to actually enjoy a drink or two without having to give all their attention to the never-ending attention seeking little monster.. oh, I mean, toddler. Trust me, awesome magic tricks will go a long way towards scoring points with the whole neighborhood and here's the next best option out there:
Magic Makers 120 Card Tricks is the 7th volume of this long-running series and it doesn't disappoint. At the time of this writing, this set has one of the highest ratings for how to do magic tricks at home. It comes with a very large assortment of tricks that are perfect magic tricks for children as well as seasoned adult spectators. Magic Makers 120 Card Tricks has some of the best card tricks out there today and the best part is that tricks have been updated with each volume. With 120 amazing card tricks, you are guaranteed to get all the shock and awe you deserve.
Raise a Magician
Ok, so maybe you aren't an aspiring magician but your son or daughter is. There are more than a few magic tricks for children out there and it's time to step your child's game up. You can always start with the simple card tricks that you've learned over the years (or have stolen from one of the great products above), but there's a whole world of magic you can open up to your child these days. For without further adieu, let's see how you can change your child's life from ordinary to magically extraordinary!
It's time to create the next Harry Potter or Hermione Granger.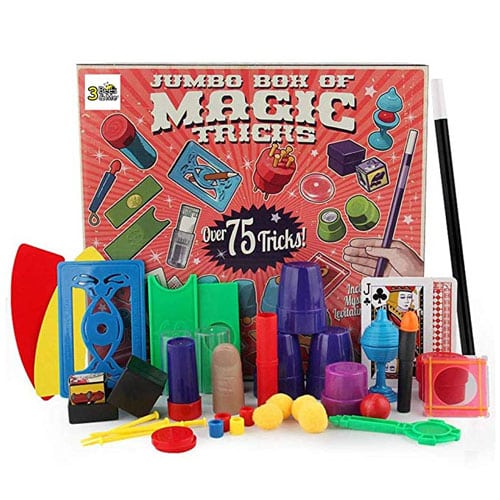 3 Bees & Me Deluxe Magic Kit Set for Kids is a great place to start for all your child's awesome magic tricks. It's packed with all the most popular tricks your kids are dying to know. It is also one of the most complete starter packs for children to start a foundation of good magic tricks that will keep their audiences guessing.
More Awesome Magic Tricks
Now that you have the foundation for some of the best magic tricks out there, it'll be good to know about a few more magic trick sets at your disposal. That's not to say that the awesome magic tricks above won't provide you with hours upon hours of entertainment, but it's always nice to have a wide array of good magic tricks at your disposal.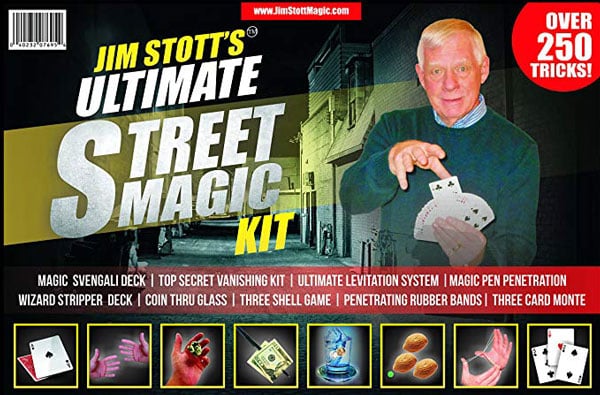 What's this? Another one of Jim Stott's? Yup, Jim continues to provide some of the best magic tricks out there today. Jim Stott's 'Ultimate Street Magic Kit is geared towards adults and takes you out of the living room and into the street to show off all your amazing magic tricks. Aside from all the good magic tricks, this product has some of the best customer services out there.
Time To Use Your Amazing Magic Tricks
And there you have it. These are the best, easiest to learn, and most awe-inspiring magic tricks you have at your disposal. I know I sound like a broken record by now, but magic tricks provide so much entertainment for anyone willing to let you showcase them. Sometimes it's hard to find hobbies that you can genuinely share with the world. People may not always want you to pull out the guitar while you're sitting in the living room, and they may not care much about your love of beekeeping or horse grooming. But if you mention you have some amazing card tricks to share, or that you have some awesome magic tricks that you just learned, I guarantee people will be all ears. Everyone likes a good magic trick and you'll be the reason for putting some smiles on everyone's face.