If you've ever been shopping for an exfoliating scrub, you know bath scrubs aren't cheap. (Think, $18 for a 5-ounce scrub.)
On top of that, they have lots of different additives, making it difficult for people with sensitive skin to pin down what's making them break out.
In this guide, you'll learn how to make your own bath scrub for yourself or as gifts for friends and family.
Let's get started!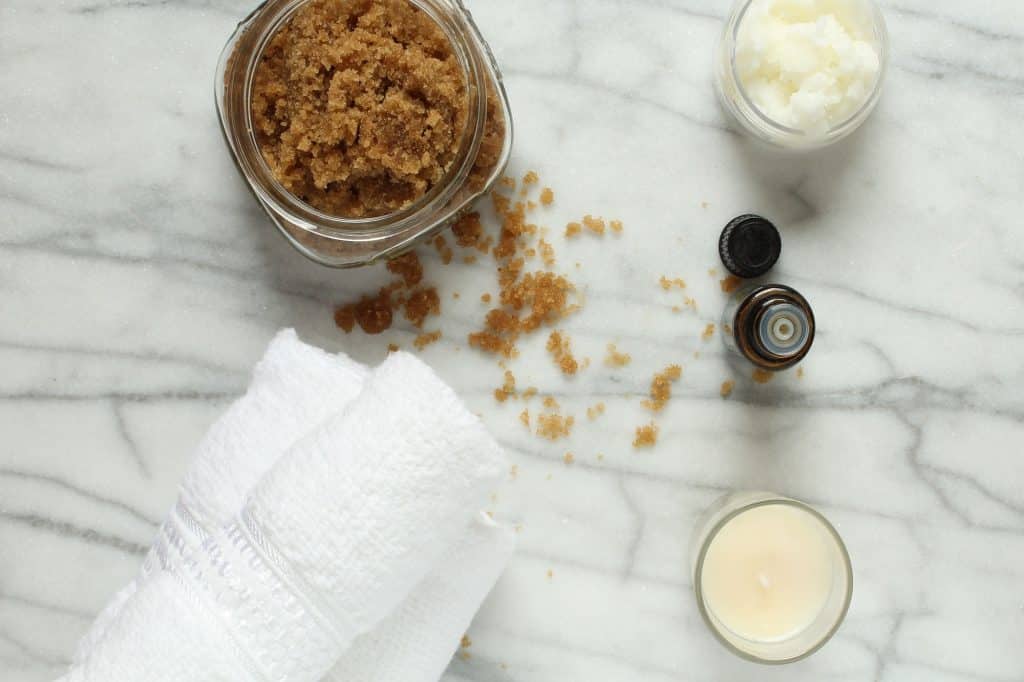 How to Make Your Own Bath Scrub
In general, it's easy to whip up a scrub: just mix together three parts abrasive to one part oil, depending on the type of oil you're using. Then, add your favorite essential oils.
You can play around with proportions to get the consistency you want in a scrub. Be careful not to add too much oil (and if you do, add more abrasive), as too much oil can cause your sugar or salt to dissolve before it can really do anything for your skin.
We'll talk below about how to choose the best type of abrasive and oil based on the type of bath scrub you want to make.
Choosing an Abrasive
Here are some ingredients that you can use as an abrasive in your scrub:
Brown sugar
Granulated sugar
Turbinado sugar
"Table" salt
Coarse sea salt
Himalayan salt
Coffee
In general, you want to be careful about using any of these on your face. Even less-abrasive sugars (like brown sugar, which dissolves quickly) can be harsh on your skin and cause further damage, especially if you have sensitive skin or a skin condition.
If you have sensitive skin that's prone to damage in general, always chat with your dermatologist first!
You can use many things as abrasives. Coarse salt and turbinado sugar is great for areas that need a bit of tough love (like your feet and elbows). Brown sugar and a bit of coffee are good for more sensitive areas. Granulated sugar is a good "middle ground" for general body scrubs.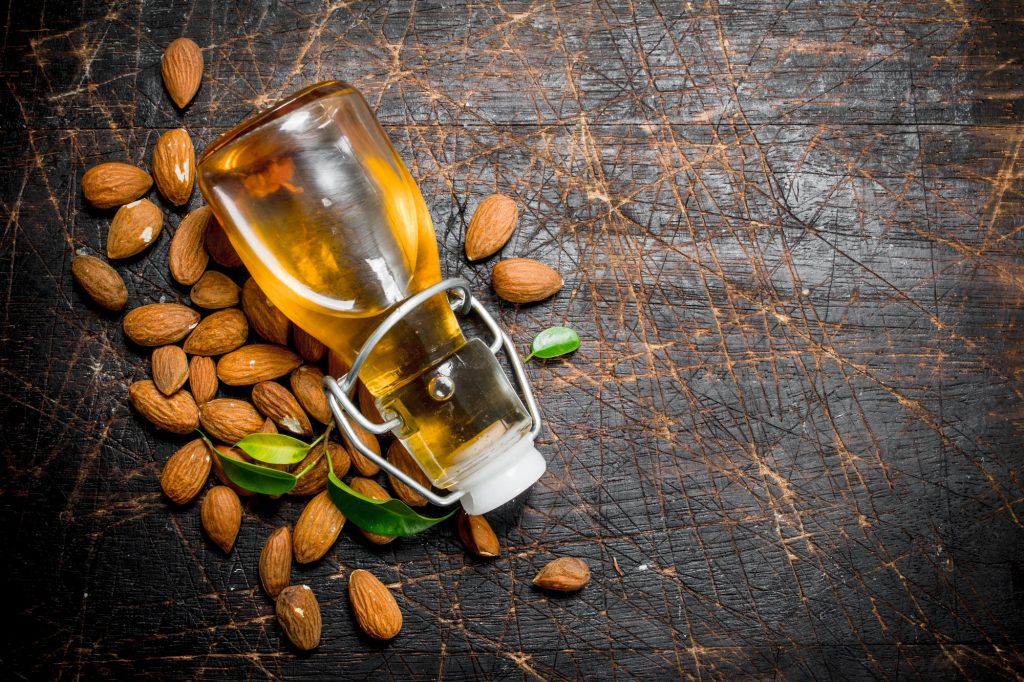 Types of Base Oils
Oils are what make or break the perfect bath scrub. Some are thick and leave you feeling greasy, while others are thin and easy to absorb, leaving your skin feeling silky. Sometimes, you'll need thicker oils. But in general, you want thin to medium oils that don't feel so greasy.
My go-to for most scrubs are fractionated coconut oil or jojoba oil.
Fractionated coconut oil, usually labeled MCT oil, is a thin, odorless, and highly stable oil. It's great for a wide variety of skin types and you don't have to worry about it solidifying in the winter!
Fractionated coconut oil, liquid coconut oil, and MCT oil are fundamentally the same thing. The difference is in the marketing, where MCT oils is typically marketed as a consumable. (Also, MCT oil is a more general term. It's a byproduct of coconut or palm oil, but typically coconut oil.)
Jojoba oil is a medium oil, but it's still thin enough that you don't feel like you have a layer of grease clinging to your skin afterwards.
If you need a heavier oil, olive oil is great choice. It's a little harder to work with due to its scent and shorter shelf life, but you only want to make enough to last about a month, anyway.
You can also use things like coconut oil or shea, cocoa, or mango butter in your scrubs. When you work with oils that solidify at room temperature, you want to mix in a thinner oil, like jojoba or MCT oil. (I'll list some of my favorite recipes at the end.)
Essential Oils for Scrubs
Lastly, you'll want a few essential oils to add in your scrub. Be careful if your skin is already dry and damaged. Damaged skin has no barrier and acts like a sponge, readily absorbing almost anything, good or bad.
Here are some oils commonly used in scrubs:
Lavender
Peppermint
Orange
Lemon
Grapefruit
Balsam of Peru (potential irritant for sensitive skin, but a good replacement for vanilla additives)
I've often seen things like grapefruit EO touted as a preservative as sorts. While it does have potential antibacterial effects, it's not a preservative and shouldn't be used as such. Some preservatives are designed to work against bacteria and fungi, but these are typically lab-created chemicals. There isn't really a "natural" long-term preservative, in the way that most people use the term.
In general, you don't need a preservative in oil-based bath scrubs. (Preservatives come in when you start making water-based solutions, and that's a whole series of articles on its own!) Just be careful not to get lots of water in them and don't keep them for longer than a month or two.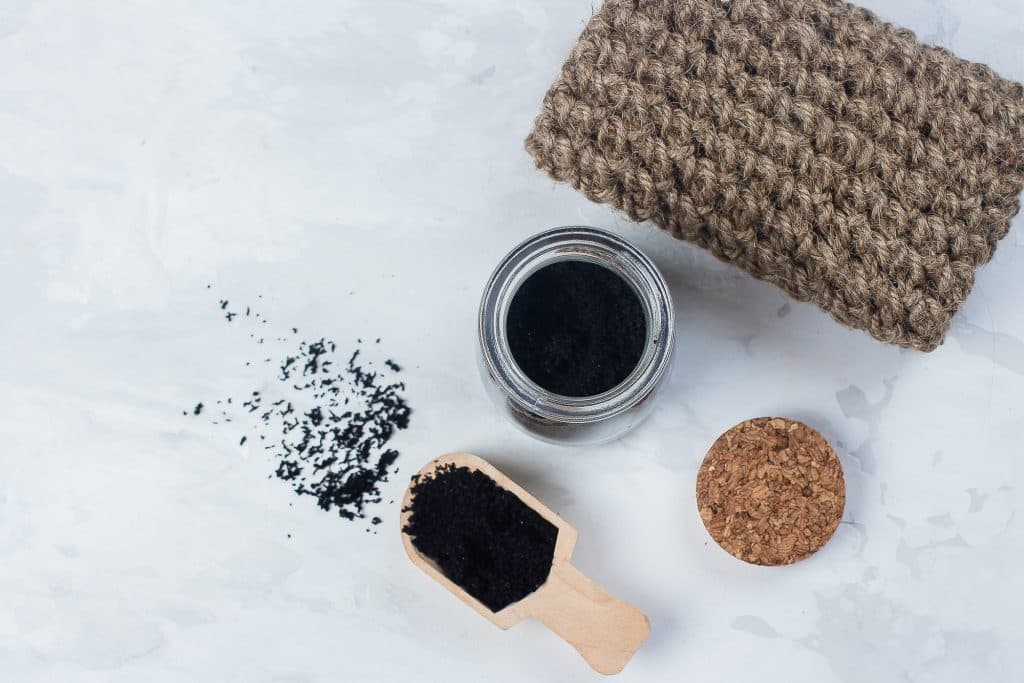 Starter Bath Scrub Recipes
Here are a few of my favorite base recipes to help you get started. As you get more comfortable with making scrubs and find the best consistency, you can start adding other ingredients like coffee, tea, oatmeal, and even pumpkin puree for more short-term scrubs.
Be careful when adding ingredients that contain water and keep them refrigerated. Only make enough to last the week unless you have a perfected preservative system. The more you add to scrubs, the more you risk attracting unwanted bacteria and fungi.
Warm Coconut Coffee Scrub
1 cup of brown sugar
½ cup of coffee
½ cup of coconut oil
2 tablespoons of jojoba oil
Essential Oils:
10 drops Balsam of Peru
5 drops Nutmeg
5 drops Ginger
If you have sensitive skin, omit essential oils or swap them for a mild oil, like lavender.
Refreshing Citrus Foot Scrub
1 cup Himalayan salt
5 tablespoons of jojoba oil
Essential Oils:
10 drops grapefruit
5 drops orange
5 drops peppermint
Add one tablespoon of jojoba oil at a time, until it reaches desired consistency. You don't want this one to be too liquidy and you can always get your fingertips wet while massaging your feet with it to add a little moisture.
Lavender Vanilla Scrub
Note: This one smells like vanilla due to the Balsam of Peru, but doesn't actually contain vanilla extract.
1 cup granulated sugar
½ cup coconut oil
2 tablespoons almond oil
Essential Oils:
10 drops lavender
10 drops Balsam of Peru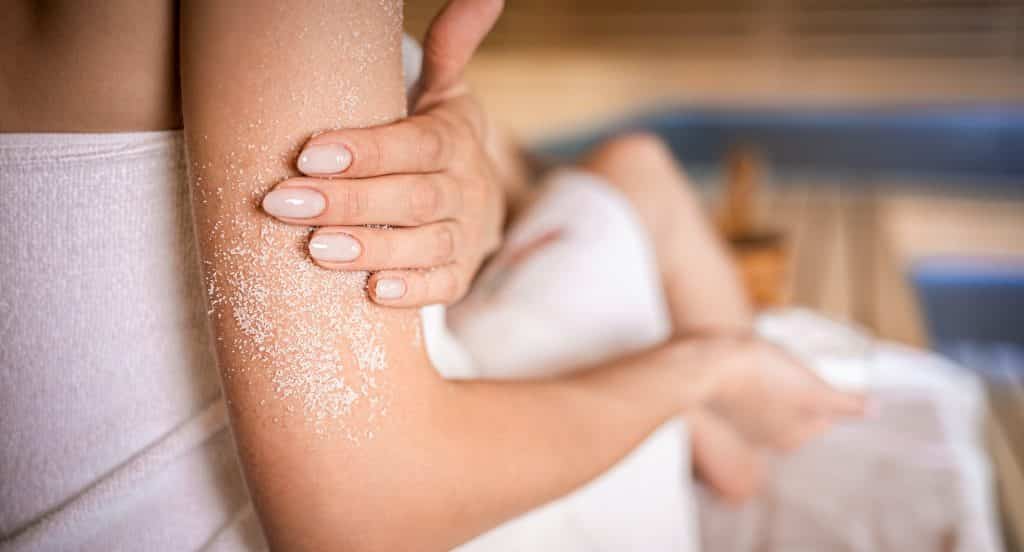 Using Your Bath Scrub
Be mindful not to get water in your scrub. Put it on slightly dampened skin (not wet) and gently massage in circular motions. You don't want to scrub too hard, so as not to damage or irritate skin.
With any of these recipes, you can swap out the type of abrasive and essential oils used. My general rule of thumb is to try to keep close to 3 parts abrasive to 1 part oil, but you can play around with proportions and see what works best for you.
I try to ensure that scrubs come out more on the dry side, rather than looking like soup. It's easy to add moisture to your skin or apply a little more oil, but storing your bath scrubs with too much oil can cause it to dissolve and break down quickly.
Hopefully you enjoyed this guide on how to make your own bath scrub! I'd love to hear about your favorite creations in the comments below.