The transition from summer to autumn is a beautiful time of year and a much-needed break from the heat!
As the weather starts to cool down, you might find yourself wanting to get outside a little more and appreciate the change in color, or cozy up indoors with a new autumn-themed project!
Here are some of my favorite autumn craft books that include different projects, recipes, and activities for the season. You'll find applique projects, delicious recipes, and some family activities for both indoors and outside.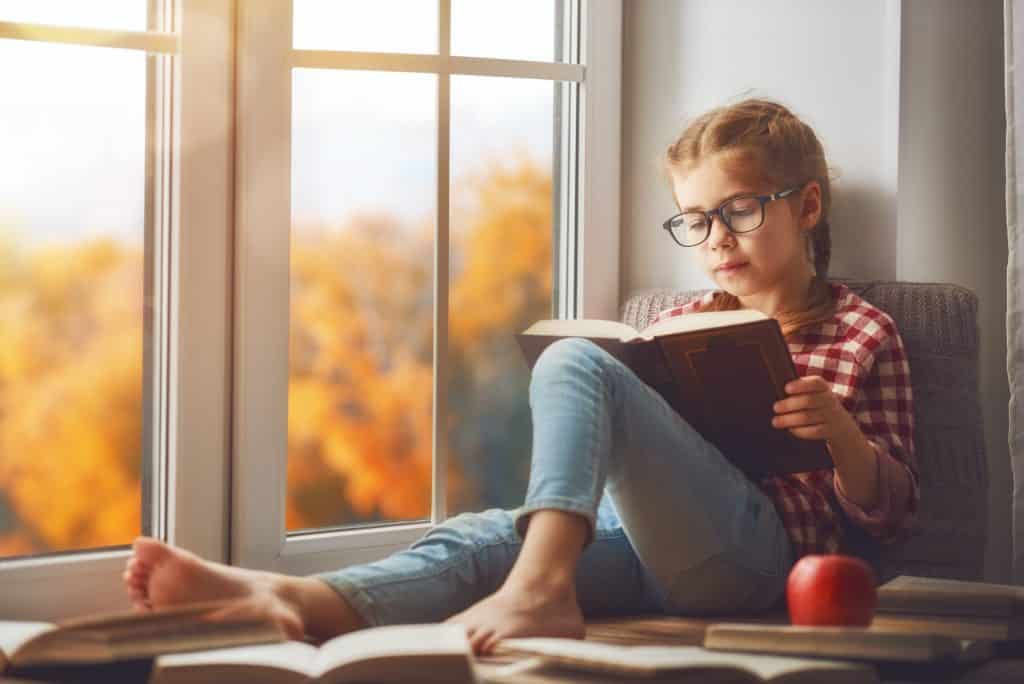 Easy Autumn Coloring Book
Adult coloring books have risen in popularity over the years—and for good reason!
Coloring can take your mind off yourself and your day-to-day sources of stress. Much like knitting and other repetitive, predictable activities, it allows your mind to rest and focus on the task at hand.
This autumn-themed coloring book is a great way to de-stress and enjoy some nice imagery.
5 Autumn Activity Books for Families
Whether you're looking for some seasonal activities for the family or a way to get outside after Thanksgiving dinner, these books have a range of activities for kids and adults alike (and who doesn't like a round of Mad Libs?).
Autumn Bounty: 18 Quilts and Wool Appliqué Projects to Decorate Your Home
When cooler weather rolls around, you'll want to have some appropriate craft books. Autumn Bounty has some great cold-weather projects—quilts, pillows, and other seasonal delights that feature beautifully warm tones associated with autumn.
Mary Engelbreit's Autumn: Craft Book
Make the most of fall's arrival with a wealth of ideas from Mary Engelbreit's Autumn Craft Book. You'll find projects for the new school year, homecoming, Halloween, and Thanksgiving. Decorate book bags or design canning labels for all of your seasonal goodies.
You'll also find great seasonal recipes for friends and family (there's a wonderful apple bread recipe!) and outdoors (learn to make cookies for birds).
Engelbreit's seasonal craft books are some of my favorites—you'll enjoy them year after year.
Homemade Harvest: Recipes and Craft Ideas
Warm up your home with the smell of these autumn favorites, like sweet potato casserole, turkey and dressing soup, cranberry-orange scones, and Autumn apple-cheddar chicken.
And of course, there are plenty delicious beverage and dessert recipes for the cooler weather!
You'll also find some seasonal crafts like the blooming mum pin (for homecoming), an apple wreath, and ideas for hostess gifts.
The Great Big Pumpkin Cookbook + Once Upon a Pumpkin
These wonderful books by Maggie Michalczyk have everything pumpkin—perfect for holiday recipes. If you've only ever had pumpkin in a pie, think again!
Maggie kicks off this book with some of the nutritional benefits of pumpkin, as well as 25 ways to use a can of pumpkin. Here are just a few of the fantastic benefits of pumpkin:
One of the best-known sources of beta carotene, a powerful antioxidant that converts into vitamin A when digested
Packed with fiber
Great source of lutein, which supports eye health
You'll find recipes for all sorts of desserts, soups, shakes, and even sugar scrubs like the ones in this guide.
Tilda Hot Chocolate Sewing
Grab your favorite cuppa and get started on a new sewing project from tilda Hot Chocolate Sewing. You'll find a range of Autumn and Winter-themed sewing projects, like quilts, bags, dolls, pillows, and more.
This book features motifs like reindeer, mice, apples, butternut squash, ducks, and other birds. The photos in this book are just as lovely as the projects!
Stitch It for Autumn
Stitch It for Autumn includes a range of projects featuring projects like the "Farmyard in Fall" quilt, sunflower purse, striped tote bag, and the adorable mother hen tea cosy.
You'll find autumn motifs like sunflowers, chickens, apple trees, and farmhouses that lend a warm, homey feel to your projects.
Autumn Splendor: Folk Art Quilts and Projects
Heese expresses her love for autumn in the form of this adorable book, featuring six quilts and two smaller projects to tie everything together, as well as a ruffled dresser scarf and wall hanging to warm the home.
It doesn't really have any beginner-friendly projects, so this is more for the experienced quilter who has a good knowledge of rotary cutting, pinning, pressing, and everything you need to know about finishing quilts.
It does provide some tips on her appliqueing methods, but you'll definitely want a more foundational knowledge of quilting before you tackle these beautiful projects!
Whimsical Wool Projects and Warm Quilts
Whimsical Wool Projects features appliqued projects made with a mix of crisp cotton and warm wool, perfect for autumn. Bring a playful warmth to your home with these cute designs!
You'll find some projects with more playful designs that feature grinning cats and jack-o'-lanterns like "Trick or Treat" and "Scaredy Cat and Mr. Pumpkin Head," as well as more elegant designs, like "Dance of the Autumn Leaves."
Harvest Garden – Stitch and Enjoy Autumn's Treasure
The Harvest Garden project book contains more nature-inspired themes from the autumn season. Designer and gardener Kathy Cardiff combines two of her passions into these beautiful projects like wall hangings, table mats, and pillows.
Bring the outdoors in with embroidered designs featuring pumpkins, warmly-colored leaves, sunflowers, and bright florals.
Looking for more activities for cooler weather? Get everything you need to start a knitting project or capture your favorite autumn scenes with some of the tips in our photography guide. Share with a friend who would love to join you!