Want to start a garden but don't have the time to manage lots of outdoor plants?
Here, we'll cover some plants that thrive indoors with just a little TLC, as well as our favorite indoor gardening supplies. (And I do mean a little—sometimes only once or twice a month.)
Alternatively, if you're an enthusiastic gardener who just wants to grow some indoor greens or start your own kitchen, you'll find some great resources to help you get started!
Here are some of my favorite plants and equipment to get started with.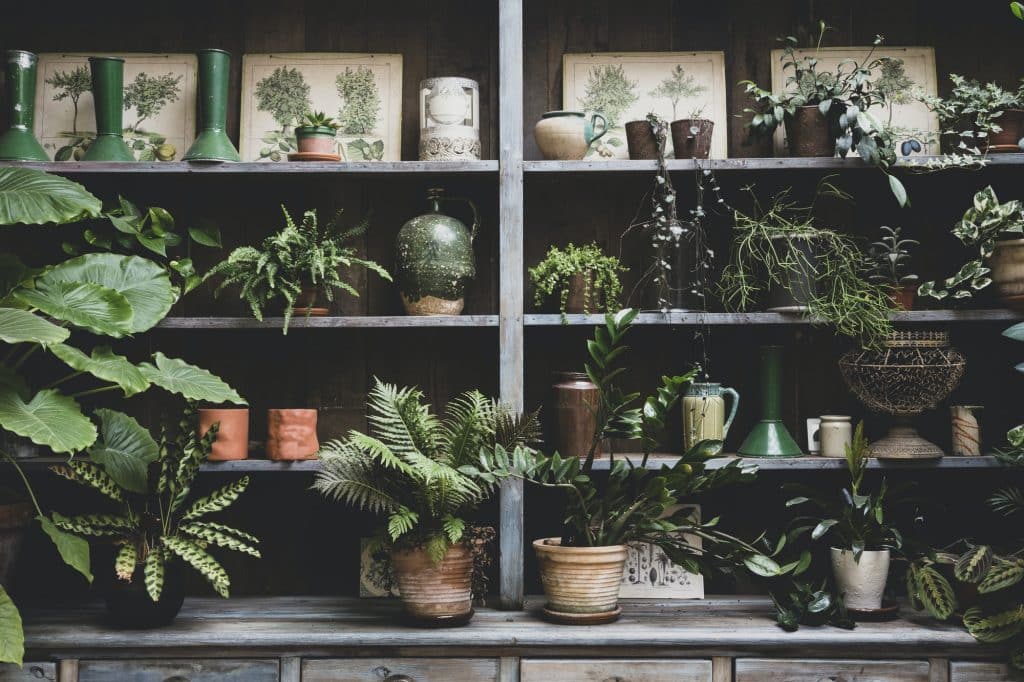 Decorative House Plants
There are tons of different kinds of plants that do well indoors, but here are some unique ones that have beautiful colors or interesting patterns on their leaves. It doesn't always have to be succulents!
(Be careful if you have plants—some of these are dangerous if consumed by dogs and cats.)
Chinese Evergreen (Aglaonema)
This easy-to-grow houseplant has bold, colorful leaves and beautiful patterns. You can commonly find it in a few different varieties—a darker green plant with red-orange edges or the Silver Bay variety that features a pattern of dark and light green.
ZZ Plant (Zamioculcas Zamiifolia)
This pretty succulent has dark green, waxy leaves and thrives in low light, making it perfect for neglected corners and office decor.
It doesn't need to be watered often—only once every several weeks, allowing the soil to dry out for a bit before you water it again.
Aloe Vera
Aloe Vera is a pretty common plant, but it's worth mentioning if you have a window that receives a fair bit of sunlight. Like the ZZ plant, these don't require much attention and only need to be watered every several weeks.
Peace Lily
You've probably seen these peeking out of well-lit windows and being given as gifts throughout the year. These elegant lilies have beautiful white leaves that go with just about any indoor decor.
While they can thrive in medium-to-low light, it's best to get them plenty of light if you want the larger white blooms that they're known for.
Only water when the soil is dry—they don't take well to overwatering!
Snake Plant
Snake plants have unique, striped patterns with bright edges. Leaves stand tall, sometimes twisting into interesting forms.
Like most of the plants on this list, you won't want to overwater—wait until the soil has a chance to dry out, especially during the winter.
Bromeliad
Bromeliad comes in assorted colors—pink, orange, and yellow are the most common colors.
They do well with just a little soil (usually orchid soil) or no soil! You've probably seen these in hanging gardens or mounted on driftwood without any soil at all.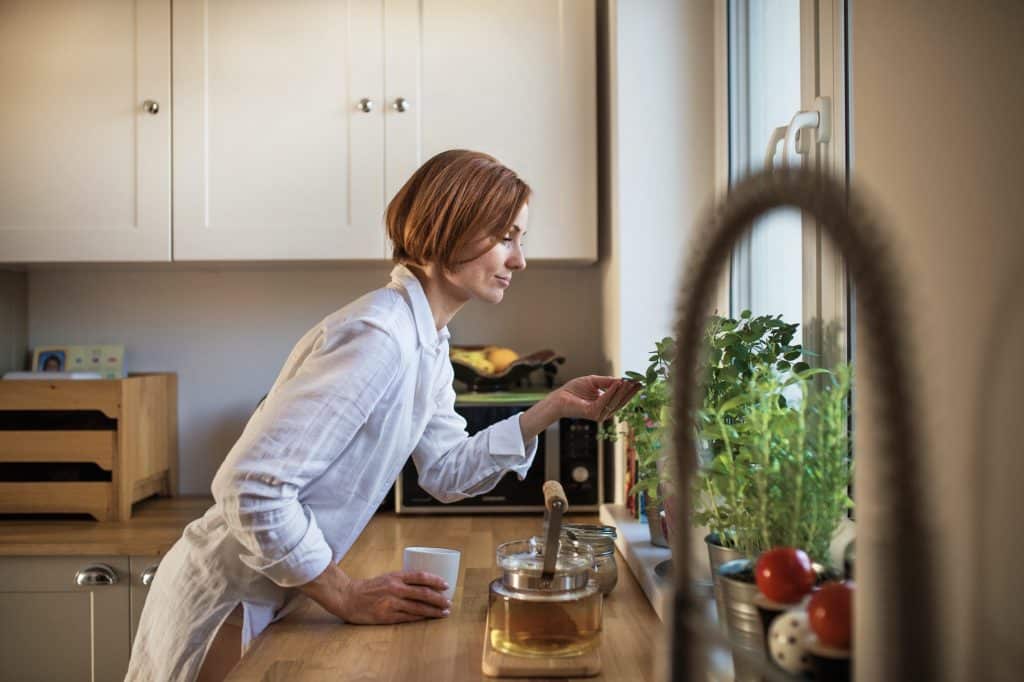 Growing Herbs and Salad Greens Indoors
If you're looking to grow something safe for consumption, look no further than the tools and resources below.
You'll find indoor lighting systems so you can grow a variety of herbs indoors, as well as some resources on growing greens without any of the fancy equipment.
AeroGarden Indoor Garden
AeroGarden offers a variety of solutions for growing all your favorite herbs for spicing up your soups and salads, or for some flavorful additions to your tea.
They're easy to use and even remind you when it's time to water, add plant food, and the lights are automatic so you don't have to worry about remembering to turn them on or off.
If you stay busy and have lost plants in the past due to forgetfulness, these systems are a great place to start. You'll never have to take an extra trip to the grocery store because you forgot the cilantro again!
GrowLED Indoor Garden Light
If you're a little more savvy and have experience caring for plants, GrowLED has some stylish lights that come in a C-shaped or window-shaped design.
The lights are automatically on a 16 hours on 8 hours off timer, so you don't have to remember to turn the lights on. (You'll still have to remember when to add water and nutrients!)
This is a cheaper solution if you're looking to try things out and aren't quite ready to commit to something too pricey. It also gives you a few different size options—the larger one is great for growing larger heads of lettuce or cabbage.
Year-Round Indoor Salad Gardening: How to Grow Nutrient-Dense, Soil-Sprouted Greens in Less than 10 Days
I wanted to give this book its own section. Especially for the interested indoor gardener who doesn't want to deal with grow lights or other equipment, this book is an amazing resource for growing delicious sprouted greens.
You'll soon be giving them away to friends and neighbors—Peter Burke explains the best way to quickly start a productive garden in your own home, even if you don't have the best lighting.
You'll quickly make your money back on this book by saving what you'd usually spend on a variety of greens from the grocery store or farmers market—and you never have to wonder about where they came from or how they were grown!
Indoor Gardening Supplies for More Plants
If you're looking to do a little more than just house plants or a small kitchen garden, I've also included some equipment that I've personally used to grow plants in the house during the winter.
Eventually I started just using them year-round, as growing plants indoors offers a lot more control. You don't have to deal with bugs and other pests as much, solving the problem of having to find safe or "natural" pesticides.
Indoor Greenhouses
If you're trying to keep them away from pets, you might also consider indoor "greenhouses" and grow tents. This convenient shelving has a protective cover that can easily be opened. (And while they may not survive more enthusiastic cats and dogs that like to tear into things, they are pretty durable in general.)
Grow Lights
You'll want some grow lights if you're keeping your plants in a room that isn't well-lit. Since most herbs and salad greens thrive in direct sunlight, they'll need something to replace that light source.
You may be able to get some things (like sprouted greens) to adjust to lower light levels, but if you're planning on growing very leafy or flowering herbs, you'll definitely want to invest in a good grow light.
For smaller plants, a light that just clips on to the table should be sufficient. I attached a small triple-head grow light to the windowsill and adjust the heads over a bench that I could put the plants on.
For larger indoor gardens (or if you don't have a sturdy windowsill or much floor space), you'll want a bigger grow light that hangs from the ceiling.
These tend to be very bright, so be mindful of the amount of electricity they use and how much heat they produce. Most of them have timers that you can set for anywhere from four to 16 hours.
Shelves and Other Fixtures
When you're planning out your garden, you'll want to take into account how much space you have. If you don't have a lot of space, your plants might be dispersed throughout the house, wherever you have room.
In this case, smaller shelves or even corner shelves are a great option if you're kind of planting wherever there's room.
Alternatively, if you have an entire room to dedicate to planting (or even a garage), grow tents and indoor greenhouses are a great option.
If you're looking for something decorative that'll also keep the pets out, glass terrariums are also something to consider. While they're better for succulents and air plants, you can do a lot more with them, like adding sand or decorative stones.
Further Reading
Looking for more resources on growing indoor gardens? Here are some of my favorite books, most of which you can get on your Kindle. (And even if you don't have a Kindle, you can download the desktop or mobile app for easy reading!)
Know a friend who would love to join you and start their own garden? Share this with them! You might also enjoy our guide here, geared more towards outdoor gardening—you can start your plants indoors in preparation this winter!