Interior design goes a step further than simply decorating a room. It takes into account elements such as function, texture, patterns and more to think about how a space both works and looks.
Interior design for beginners doesn't need to be complicated but can make a massive difference to how a space looks. So if you want to take your decorating project to the next level, consider these beginners tips on interior design.

We recommend Canva as a great option to plan your interior design ideas. It comes with thousands of templates to get ideas from, including a mood board collage template.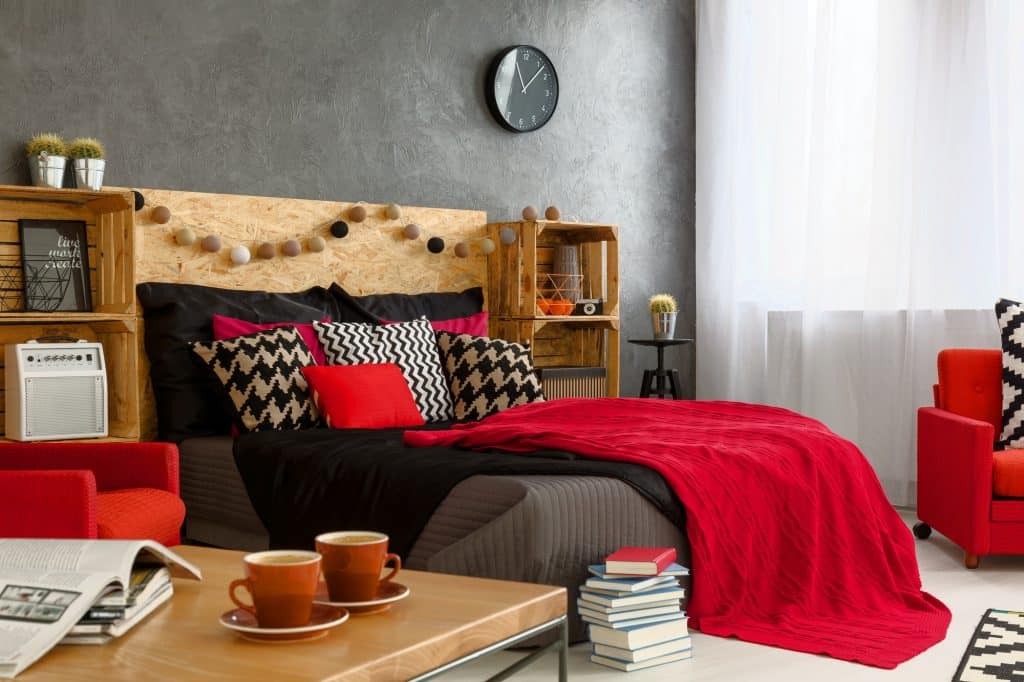 The Basic Principles of Interior Design
Interior design for beginners should start with the 3 basic principles. These will dictate how you approach the project, so learn them well and bear them in mind every time you make a decision.
1. Style
The first thing you must do is to choose a style for the room. Having a style will create a sense of cohesion and will influence everything from color schemes to furniture choices. Also, it'll help keep your decisions focused.
Some styles examples are:
Industrial
Scandinavian
Shabby-chic
Modern
Rustic
Of course, there are many more, but this is just a selection to get you on the right track. Each comes with its own color palettes, design elements, floor plans, and decorations, although you don't have to stick strictly to these.
For example, Scandinavian is often characterized by neutral colors (cream, beige, gray) and by functional minimalist furniture choices. You can combine styles to create your own look, but that's a bit more advanced.
2. Focal Point
Every room should have a focal point that draws the eye. Ideally, you want a single thing that the viewer will notice first before they then scan the rest of the room. Along with adding a wow factor, a well-chosen focal point will create a more cohesive picture in the viewer's mind.
For example, your focal point could be:
A feature wall (e.g. a different color or patterned wallpaper)
A piece of furniture (a bright sofa, a dining table, etc.)
A piece of art or standout wall hanging
This might be the hardest thing to master when it comes to interior design for beginners. You don't want too many focal points because the space can start to feel crowded. While learning this principle, stick to one or two.
3. Balance
A room must always feel balanced if you want to achieve effective interior design. At the most basic level, this means not crowding everything in one corner or in the middle of the room.
But you should also pay attention to the visual weight of objects. For example, balancing large and small items or hard and soft. Similarly, make sure things like wall decorations are balanced; some at eye level, some lower, and some higher.
When still learning the principles of interior design, the easiest way is to move things around the room until you feel happy. After doing this a few times, you'll have a better idea of what looks balanced.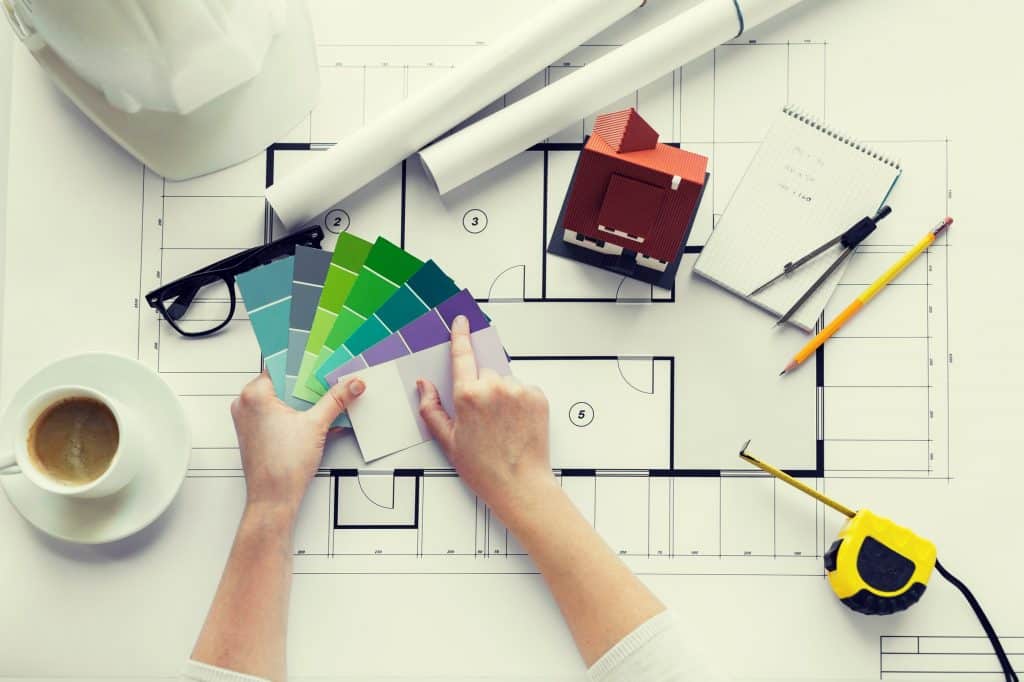 Using Interior Design Concepts
Building upon the principles listed above are the main concepts of interior design. While you don't have to master these to create an attractive and functional space, it helps to have a solid understanding.
For example, knowing your way around color and lighting will help with setting a focal point and finding balance.
Here are the most important principles of interior design for beginners.
Color
Color is a big one in interior design. Even if you want a white room, you still need to think about color.
Once you've chosen your style, your color palette should be next because it'll influence every decision you make moving forwards.
Start by going over basic color theory. You'll want to focus specifically on things like warm and cool colors, complimentary and analogous colors, and shades.
At most, it's best to pick three main colors for your scheme and stick to these. They need to have some relation, whether it's complimentary or contrasting, they're all tones of the same hue, or they all fall in the warm color spectrum.
Bear in mind, though, this doesn't refer specifically to choosing paint colors. For example, you might find the perfect sofa in bright pink and want to build your room around that. You could then choose bright blue walls (contrasting) and white/gray accents.
Two basic but fundamental tips for using color:
Large airy rooms don't take well to dark colors. This makes a space feel much smaller.
Smaller spaces can take bold, dramatic colors much better. If you want to experiment with striking color choices, save it for smaller rooms and areas.
Pattern
Pattern is a perfect way to create a focal point in a space. But don't let it go overboard. While maximalism (among other styles) places emphasis on clashing patterns, this is a more advanced interior design style.
For a beginner, perhaps opt for a single patterned piece in a room. This could be a papered wall, a patterned rug, or a bold sofa choice. Patterns are great for drawing the eye to certain places in the room but can go seriously wrong if you mix too many.
Texture
Like color and pattern, texture is one of the fundamental concepts of interior design. It's ideal for creating interest in a space and making it feel more real.
Contrasting textures against one another makes them more obvious and helps a space come alive. Generally, you could consider the beginning texture of a room to be smooth (walls, hardwood floor, etc.). Within this, you could add:
Shine (polished wood)
Rough (woven rug)
Textiles (scatter cushions, sofas, etc.)
Much like with patterns, it's important not to go overboard on texture. Begin by thinking what your main starting texture is and how this relates to the space's function.
For example, if you're designing a living room and it's currently smooth, you might want to add lots of textiles to make it feel cozier. You could use different scatter cushions and blankets to add interest.
Lighting
Lighting is so important for really finishing a space. Never leave lighting as an afterthought; it should be up there with your main decisions. After all, what's the point in designing a beautiful space if it ends up looking dark and uninteresting?
Light fittings can serve as a good statement piece, too. It's always worth having a main overhead light and other modular lighting, such as lamps, in the same space.
Doing this will help to emphasize focal points in a room and break up space. For example, if you have an open plan living area, contrasting lamps can help it feel like several different spaces in one.
Similarly, light color is important. Most often, you'll want warm lighting, as cool lighting can make a space feel stark and clinical. LED bulbs, for example, come in various colors that can help a room to feel warm and inviting.
You can also add texture with lighting. Wooden or metal lamps are a good starting point, and the lampshade can be a variety of materials, too. Treat lighting as you would the rest of your furniture because it's just as important.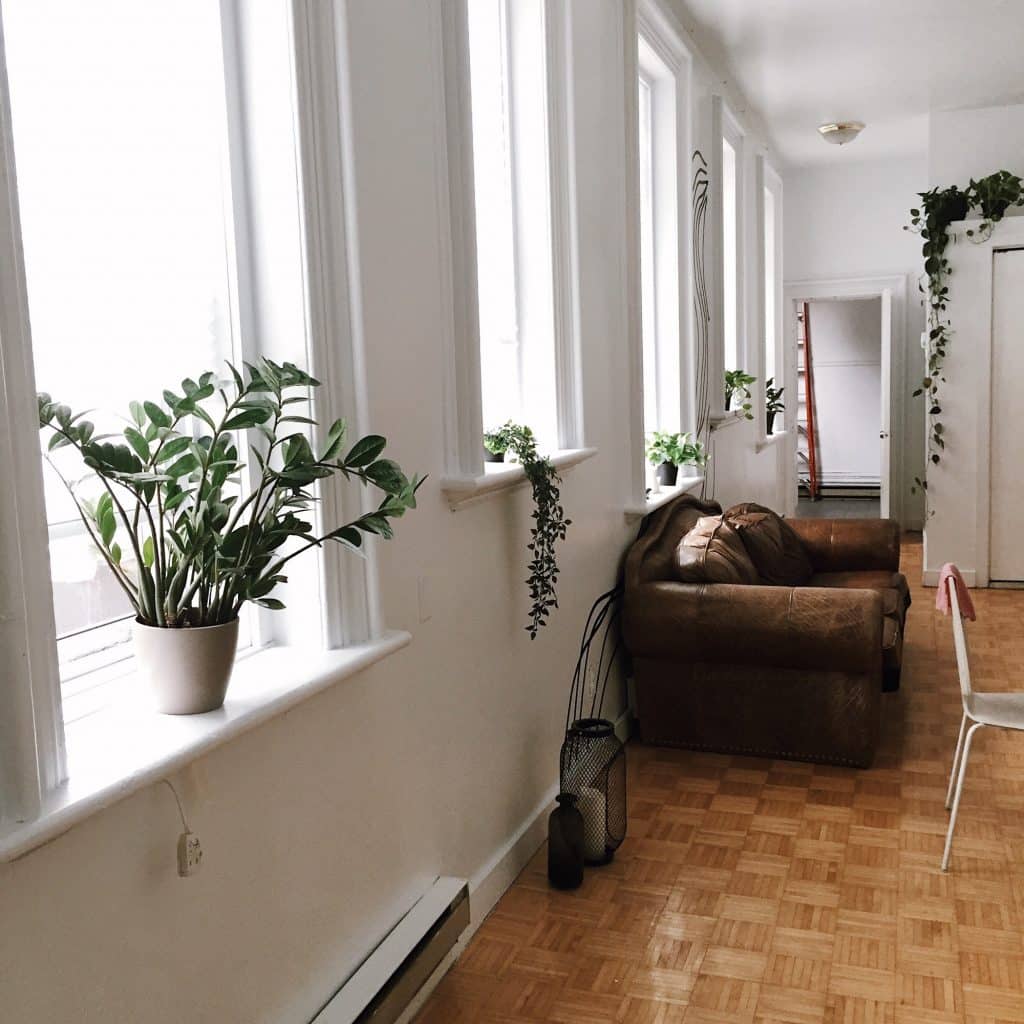 Final Interior Design Tips for Beginners
You're almost ready to create an interesting and vibrant space using the principles of interior design. But before you're let loose into the world of furniture and color, here are some final important tips for getting the perfect vibe.
Match wall decorations to the wall. Specifically, don't hang small things on a large wall because they'll just disappear. Go big with your wall decorations – it helps a space to feel finished.
Don't overlook mirrors. Mirrors are ideal for making a space feel much larger than it is. Position them so they catch light from a window and they'll do an even better job.
Plants! Plants add interest and life to a space and are often the perfect finishing touch. If you're hopeless with plants or have a dark room, find some realistic fake ones.
Accessorize. Choosing the right accessories for a room is the difference between decorating and interior design. Don't go overboard; there's a fine line between decorating and hoarding.
Keep furniture away from walls. Keeping a sofa, for example, a few inches away from a wall will help the room to feel more open.
You don't live in a showroom. Don't aim for the perfection you see on social media. Simply use that as inspiration and never forget that your home is a real, lived-in space. This should be the main drive behind everything you do.
Spend carefully. Large, high-use items like beds, sofas, and dining tables should be the biggest investments. Even so, set yourself a clear budget when starting a project and keep an extra 10% in reserve just in case.
Conclusion
Interior design for beginners is about understanding how your choices work in a space and not going overboard with finishing elements. Providing you start with the main principles and work your way down, you should have a clear vision for your project. Also, don't overlook the usefulness of a mood board!