If you love to taste different wines, the idea of preparing one on your own may have crossed your mind. Homemade fruit wine has amazing and extraordinary flavors. It's hard to find that taste in other wines, of course, because of the unique wine-making procedures.
Fruit wine is any wine made with a fruit that does not include grapes. Often known as 'country wines', these drinks require more human attention than standard grape wines; however, fruit wines are just as tasty.
Not only can you enjoy your wine, but you can also offer it to your friends and family and impress them with your new skills.
Ingredients and Equipment for Homemade Fruit Wine
Here are some things that you need to gather before making your wine.
Fresh fruits
Boiled water
Airlock
Bottles
Steps to Make Your Fruit Wine
Fruit wines are the best option for wine drinkers. With the right wine, you can make your meals more flavorsome. Not to mention, the taste will give you more contentment and joy when you prepare your own wine.
Here are the steps to make your homemade fruit wine. Do remember that you need patience, as the process can take longer than six months.
Combine Ingredients
So, let your wine preparation begin. You need to add water, pectic enzyme, and water in a container or fermenter. Make sure to stir the ingredients well. Note that the pectic enzyme is the most important ingredient in this recipe. This is because it helps get more juice and flavor out of the fruits.
Add Fruits in Your Fermentation Bag
Take your fruit pulp, and add it to a fermentation bag but before bringing your fermenter to the boiling level. Also, try to submerge your fruits entirely in the water.
Let it Sit
Take a clean cloth to cover the fermenter with it, and keep it this way for 24 hours. During this time, the ingredients and water will also cool down. Look for a clean, dry, and high place to keep the fermenter for a day. If you have a habit of forgetting, look for a place that is noticeable for you and your family.
The best location is your kitchen counter, but it should be high enough to stay away from the reach of children. This procedure will allow the ingredients to settle in and get the most out of the fruits to get the best taste.
Add Some Yeast
After 24 hours, you can introduce some yeast to the mixture. You need to opt for a yeast quantity depending on the size of your bottle. For instance, for 1.4 gallons of the fermentor, you need to add 1/5 of the yeast packet. You can add the remaining yeast when you don't notice any bubbling in the wine during the next fermentation.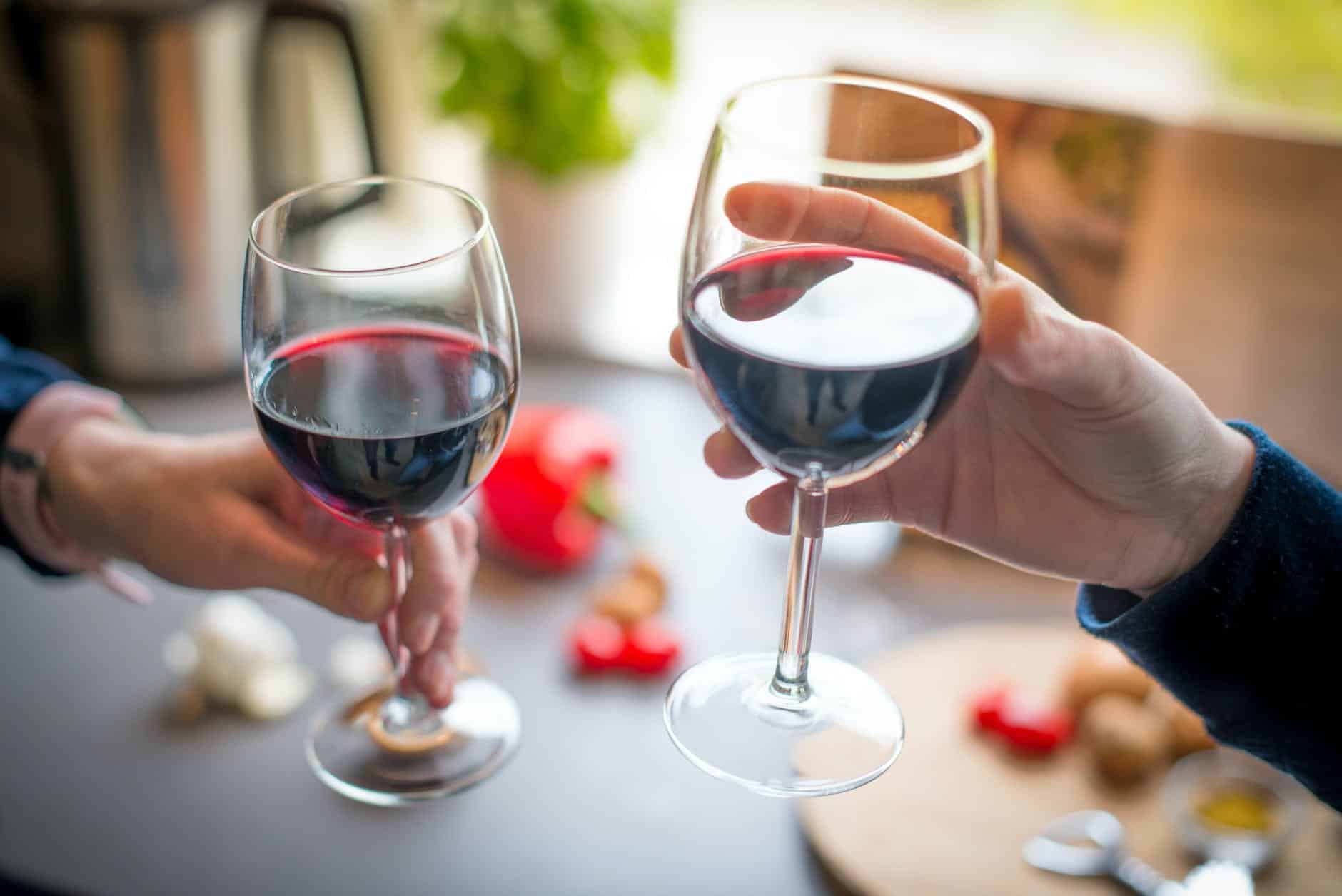 Waiting Time Begins
At this point, you need to add and combine all the ingredients in the container. Then, you need to follow the same procedure and keep it in the same place for fermentation. Generally, it's best to let your wine sit for 5 to 6 days.
Therefore, at the end of the 5th day, your yeast and sugar will almost submerge in the solution and be converted into alcohol.
Discard Fruits
The fruit will become gooey and soggy after a week. This means that it is time to take them out. So, drain the fruits out, but don't squeeze it too much.
Discard all the fermented pulp, as you will not need them again in the wine procedure. The wine you are left with is half-fermented wine. Once you are done with it, please keep it in a corner again for 3 to 5 days.
Opt for Airlock and Siphon
You need to transfer the wine into the carboy for secondary fermentation. Well, this is not an easy task, so try to be as careful as possible.
After that, complete this step by an airlock with a gap of 4 to 5 inches from the liquid to the bottom of the lock. This will allow the carbon dioxide to leave your fermented wine.
Start Storing
At this point, you need to look for a dark and cool place to store your handmade fruit wine. The room temperature should be lower than 21 degrees. The wine cellar and basement in the house are the perfect options for fruit wines.
Bring Siphon
After storing for a few months, you should keep your wine in a carboy. This way, you will be able to follow the sanitary measures. Most importantly, this step will make your homemade fruit wine healthy and safe to drink, minimizing the risk of yeast infection in your wine.
Transfer to the Final Bottle
Finally, when six months have passed, it's time to check your fruit wine. Check for bubbles on the wine's surface. If you don't find any, you can siphon the wine into your bottles. If you want to enhance its taste, you can also keep the bottle for more months.
Drink It
So, now your fruit wine is ready and you can enjoy an entertaining time. Don't forget to share your efforts and happiness with others.
Bottom Line
Preparing homemade fruit wine may be a bit challenging and time-consuming, but it is totally worth it. Not only is its taste amazing, but it also gives you a sense of accomplishment when you take the first sip of your wine. Moreover, anyone who loves to cook lasagna, bake cupcakes, or do other time-consuming things joyfully will also enjoy each step of the wine procedure.
Since the steps are also divided, and you have to perform each task by taking some breaks, you don't feel overwhelmed with the work.