Melt and pour soap bases are a pretty big topic of interest around the holidays—they're easy to work with, they make great gifts, and if you sell soaps at the market, you can use them to fill out your inventory without having to wait weeks or months for them to cure.
But how do you choose the best melt and pour soap base for your project?
Below, we'll cover some of the more common melt and pour soap bases and the advantages of each.
USDA Certified Organic Melt and Pour Soap Bases: What You Need to Know
I wanted to go ahead and talk about this first before you try chasing after USDA certified soaps, as it's a little trickier than you might think.
Do a quick search on Google for organic melt and pour soap bases and you'll find a couple of things:
Non-Certified Organic (NCO) soaps that claim to use certified organic ingredients
Soap that uses only "natural" ingredients (also NCO)
Soapmakers with an actual USDA certification that either has a product that's one of three things: 100% organic, organic, or made with organic
The last one is almost unheard of, but they do exist. They're also very expensive, difficult to turn a profit with, and often are difficult to get ahold of in bulk.
Vermont Soap is one of the few companies that can back up their claims with a certification. (And they're the only one I would currently recommend if you're looking for organic products.)
While they're a little pricey, they have great products. You just have to decide if something like this is a good fit for you and your client base if you're selling an end product using their soap bases.
Companies that simply claim to have organic products are far more common. They usually state that "our products would be organic, but…" followed by an explanation that the USDA/NOP is the only certifying body and they've had to change their product names due to their labeling requirements.
In some cases, they have genuinely good products that could be certified if they decided to go for it.
In most cases, it's just another way of saying "we can't be bothered." Which is fair enough. It's time-consuming and expensive. But there are ways to get certified and programs that offer financial assistance and resources.
So if this is the route a company wants to go and they truly already adhere to USDA requirements and regulations, there really isn't anything stopping to them.
Would I recommend Certified Organic soap bases?
Not to most people. Unless you're doing it for peace of mind for you and your customers, it's typically not worth it. Especially if you're selling it, rather than giving them away as gifts, it's hard to justify the cost to most consumers.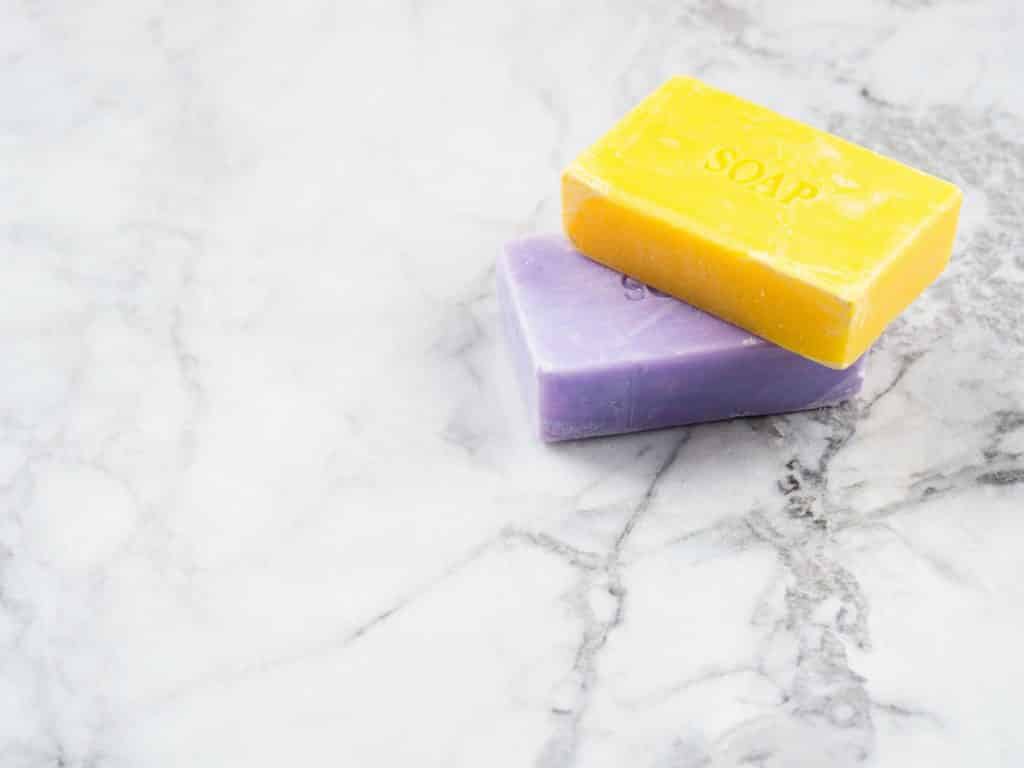 The Best Melt and Pour Soap Bases
If I'm being completely honest, the best melt and pour soap bases are not organic.
Organic products certainly have their place, but they still have a long way to go. They often lack the consistency and longevity of general/NCO soap bases.
While preservatives have been presented in a negative light in recent years, they solve a lot of problems that are potentially more dangerous than the many potential side effects of preservatives. (Bacteria and other growth in preservative-free concoctions can be pretty dangerous, too!)
So with that in mind, here are some of the best melt and pour soap bases that are cost-effective, easy to work with, and don't have a list of ingredients that could take up an entire page.
(Note: If you're used to making your own soap and are new to the melt-and-pour world, these set fast! So keep that in mind if you're wanting to add decorations and designs.)
Goat's Milk Soap Base
If you have sensitive skin and you find that most soap tends to make you itch, melt and pour soap bases with goat milk in them are a great option to try out.
I first started looking into goat's milk soap bases after trying out a lotion with similar ingredients. This one has made its way into my favorite bases due to how great it feels and how easy it is to work with.
This base uses primarily coconut, palm, and safflower oil with glycerine and goat's milk. Other ingredients include sodium hydroxide, sorbitol, sorbitan oleate, oat protein, and titanium dioxide.
Most of the soaps recommended here use a similar base with only slight variations.
The only issue I really had with this one is that it didn't hold color as well as some of the others here—it took quite a bit of mixing and even then had lots of inconsistencies compared to other bases with the same colors.
Shea Butter Base
If you've never used shea butter before, it's pretty tough to find a good base. Up until the past few years, I'd make it from scratch before even thinking about trying to find a good melt and pour base just because of how wildly different they could smell.
Some used unrefined shea butter, which can have a really strong smell that overpowers all your other ingredients.
In general, if you want to add your own scents, unrefined shea butter is a no go. You're better off trying to find something to complement its natural scent—I used peppermint, spike lavender, and ylang-ylang essential oil. (Specifically spike lavender—more delicate lavender oil made with "English" or "French" lavender oil tend to be lost to unrefined shea butter.)
This particular shea butter base uses a refined shea butter (and only 5% of the base is actually shea butter), so this is a good way to get a feel for if you like it or not. I'd recommend starting with something like this and slowly working your way up to more shea butter content, as it really does make a great moisturizing soap.
Aloe Vera Soap Base
I love this aloe vera soap base—it has only a very light scent to it, making it great for adding in your own fragrances. It's also clear, making it great for displaying decorative additions like petals, herbs, and scrub beads.
I tried this one with lavender, ylang-ylang, and orange essential oil, jojoba oil, and Himalayan salt.
Out of all the soap bases I tried from this vendor (Our Earth's Secrets), this one took the best to colors and other additives. I generally don't risk adding anything in the way of carrier oils or anything else to mess with the composition, but it did well with a little extra oil added.
It does have a slight greenish tint from the aloe vera, so you'll want to keep that in mind when working with lighter colors. It does best with cool colors, especially blues.
If you're looking for a nice clear soap that takes to colors and decorative additions, I've also included a clear glycerin soap base that is very easy to dye. I wasn't as big on it as I was the aloe vera one, but it's still a great base.
The Best Melt and Pour Soap Base Kit
While I typically don't get kits, I did really like this sampler kit from Saponify. They're one of my favorite companies to get bases from and have a wide range of soap bases.
This particular kit includes a pound each of shea butter, clear, aloe, olive oil, charcoal, coconut milk, avocado butter, and a white soap base. This will give you a range of options to try out, which is also great if you're wanting to see what bases are the easiest to color.
In this particular listing, there's also a second kit that includes goat's milk, clear, argan oil, hempseed oil, honey, cocoa butter, mango butter, and white soap bases. I probably would have tried this one over the other one, but it wasn't available at the time I was buying.
Both of these also include complimentary mold trays if you don't already have your own.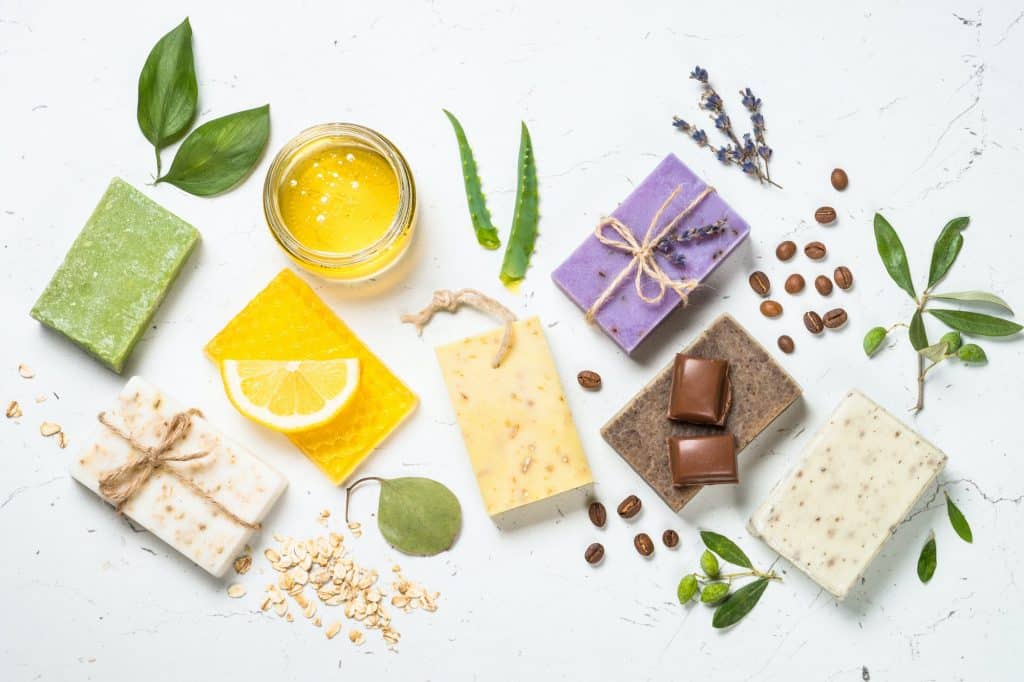 If you're new to soap making and are looking for a more complete kit, check out our guides to beginner soap making kits and natural soap colorants.
Share this with a friend who you'd love to try making soap with. It's pretty fun on your own, but always better with friends!