A bullet journal is equal parts planner, to-do list, and diary. It's pretty much whatever you need it to be.
While it can be completely text-based, many journalers add a lot of visual elements with stickers, decorative tape, or their own artwork.
A bullet journal abandons the typical "done-for-you" planner where monthly, weekly, and daily pages are pre-printed for you. They utilize a journal with blank or grid pages, where journalers can add in bullet lists for various goals, tasks, observations, and more.
In short, it's a more flexible life planner and diary combo.
Let's get into why you might want to start a journal, as well as our favorite bullet journal supplies to help you get started!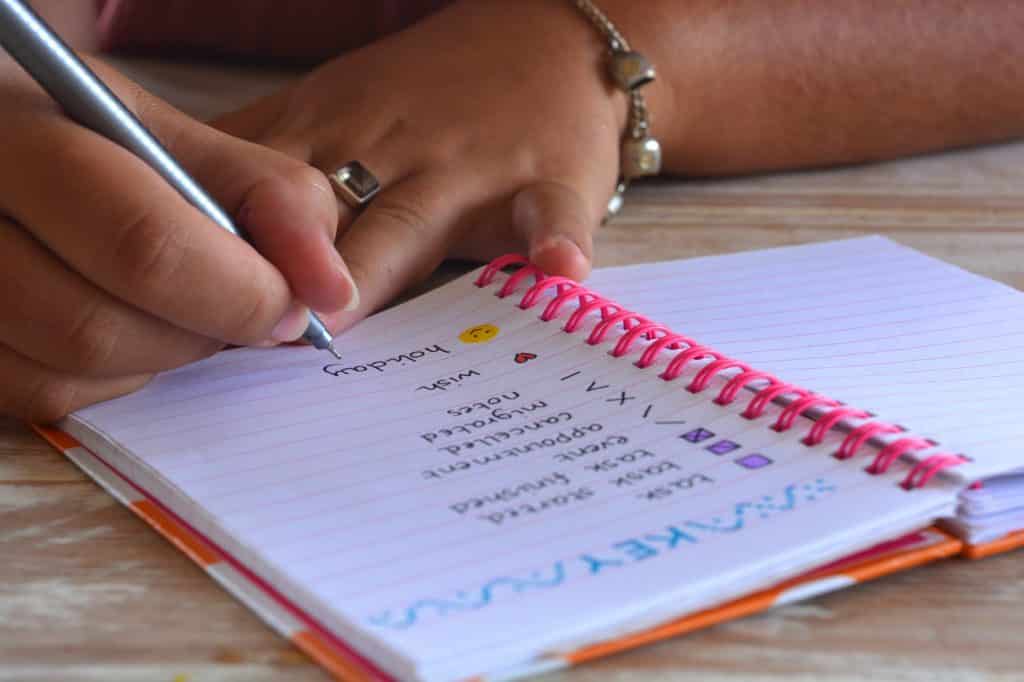 Why Should I Start a Journal?
Bullet journaling has many benefits, depending on how you go about it.
There are the more obvious perks like staying organized, but it goes a bit beyond that.
Bullet journals can serve as a creative and emotional outlet, just like keeping a diary or getting things out in the form of drawings in a sketchbook.
They're also meant to help you be more observational. By planning everything out and documenting things that happen on a day-to-day basis, they help draw more awareness to your surroundings, habits, and life in general.
After a while of keeping a journal, you may start to notice habits and behavior you weren't aware of before. These could be good behaviors, like consistently meeting deadlines, regularly setting aside a little personal time to care for yourself, and taking time for hobbies.
You might also find a lot of areas that need improvement. Maybe you spend all your time thinking about work and need to take a little more personal time. Or, maybe you're struggling to meet deadlines and trying to do too many things at once.
You'll find many more benefits once you start journaling. It's all about experimenting and finding what works for you!
What to Include in Your Bullet Journal
While there aren't any hard and fast rules for bullet journaling, most bullet journals start with an index and numbered pages, and include the following elements.
Collections
Collections are a way to group similar ideas and information. You might choose topics like reading lists, article ideas, food logs, or a personal diary. This is also a great place to focus on observations and look for patterns in your personal life.
Future Log
The future log is a monthly overview that can be used to mark monthly goals and major events. Think things like family gatherings, vacations, deadlines and renewals, and other major events.
Depending on how you've decided to create your journal, this may be a full year or just a 6-month overview. (I personally like to stick to 6-month planners to allow for more flexibility and less overwhelm when planning things out.)
Monthly Log
A monthly log is a spread of pages (two pages per month), which generally consists of a task list, calendar page, or both.
You'll want to use this spread as both a schedule and to write events after they happen. Bullet journals are about observation just as much as they are about scheduling. Writing down events after they happen allows you to go back and review your month and everything that has happened.
Daily Log
Daily logs are a little more flexible and can be created as you go. Include things like daily tasks and observations. You might not take up an entire page, so creating them as you go allows you to use as little or as much space as you need.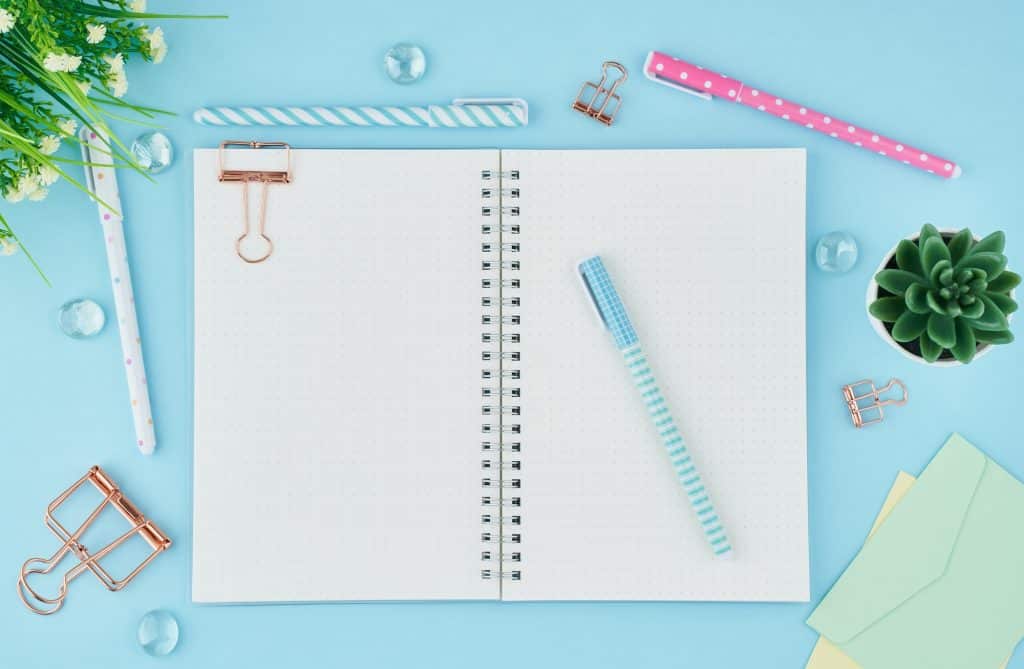 Bullet Journal Supplies
The first thing to start with is a journal you'll love.
The great thing about bullet journals is you're not limited to looking for specific planner designs you like, only to be disappointed by the cover. Just looking for journals with blank or dotted pages really opens up your options.
It doesn't have to be super durable if you'll only be using it for a short time. You can easily find smaller notebooks if you only plan on doing quarterly or 6-month journals.
I've included a mix of both blank and dotted journals from some of my favorite sellers:
Next, you'll want to find some good pens, particularly gel or felt pens that won't bleed through pages. (Most journals have fairly thick pages and don't generally have a problem with bleeding.) If you want to be extra safe, you can go the colored pencil route.
Get a mix of standard black and blue pens, as well as some colored ones if you plan to do color coding. Even if you don't, it's nice to have a splash of color for different sections and lists.
If you want to get a little more decorative, you can find small stickers and washi tape to decorate your pages with. While this takes up a lot of space in smaller journals, this works great for larger journals and sketchbooks. (You might also find some great ideas for decoration in our scrapbooking gift guide.)
Once you have all your supplies, you just need to get started. This site has some great resources and prompts to help you get started on your bullet journal. It also showcases lots of different journals to help you find inspiration for your own journal.
It also helps if you have a friend to start with you and hold you accountable! Find someone who wants to start journaling (or already keeps a bullet journal) that you can share your thoughts and ideas with.