Holiday shopping is already a crazy time of year, but even more so if you're trying to stay on top of ordering supplies and filling orders for your own business!
Whether market days are a full-time thing or more of a side hustle, the holidays are the perfect time to hit the markets. Here are some favorite easy Christmas crafts to make and sell at holiday markets.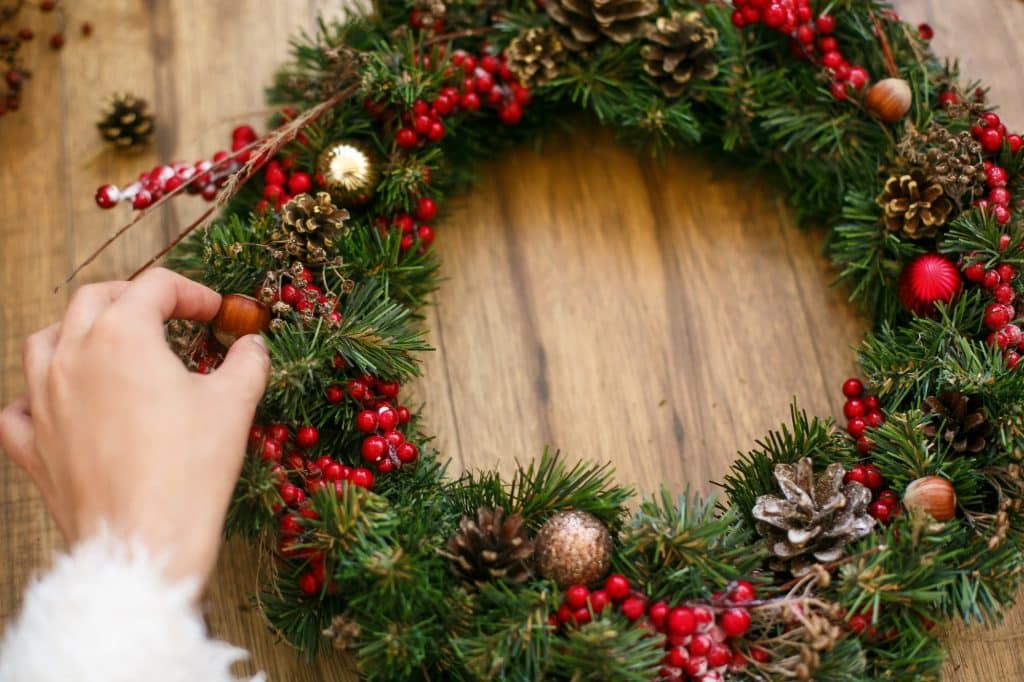 Holiday Wreaths
Holiday wreaths are one of the simplest and versatile things to make. There are tons of different kinds of artificial plant material available both on Amazon and at your local craft store.
You can take a bit of a shortcut and get wreaths that already have a bit of greenery on them, then add battery-operated lights and other decorations. If you want to start from scratch and choose everything down to the base of your wreath, Amazon has packs of wire wreath frames you can start with.
If you're starting with just a frame, you'll also want to get something to secure the branches and other decorations to your frame. Green wire or floral tape works great and blends nicely with things like artificial cedar and pine.
Wreaths don't need tons of decorations to look nice! A wreath with some cedar branches and red berry branches look nice on their own. If you want to add a little more, you can get some ornaments, bows, and ribbons—bonus points if you make them yourself!
While I've found that wreaths with lights don't sell as well at our local holiday markets, it's still a good idea to offer some as an option. I usually only bring a few wreaths that have lights glue to them.
Or, if I don't think they'll sell, I just bring the string lights separately and secure them to the wreaths at the show. It can take a little while, so this might not be great for busier events unless you have someone working with you!
Here are some of my favorite string lights: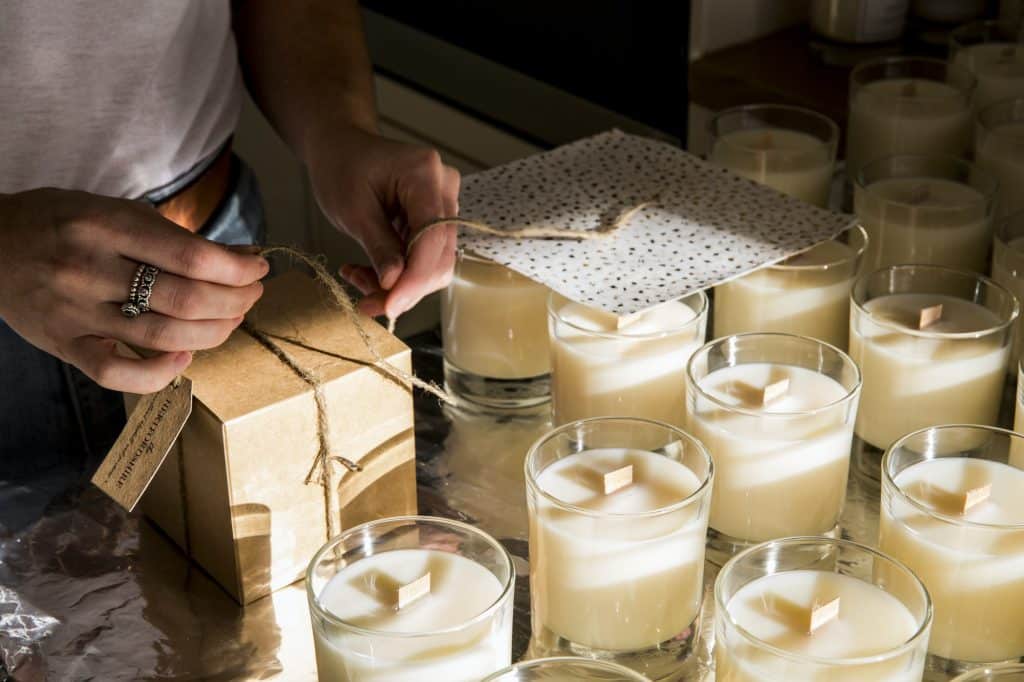 Candles
Candles are probably among the best sellers at our local holiday market, especially if you're doing custom scents with advance orders and allowing buyers to pick them up at the market. (I've since stopped selling candles in favor of wax melts, but it wasn't uncommon to come close to selling out before the market!)
Here are some great DIY kits for a small selection of candles. Add your own twist to them with unique dyes (I've included these separately in case you find a kit you like, but doesn't have dye). You can also decorate them with everything from glitter to dried herbs and flowers.
Most of these come with their own scents. While I've seen a lot of people use essential oils in candles, keep in mind you need quite a bit of oil for them to retain their scent as they burn.
On top of that, some of them smell much different than you might expect. In general, you'll want to stick with kit recommendations until you've had some time to do a little experimenting of your own!
Candleholders
Candleholders are a great product to sell at holiday markets, whether you're selling candles or not. If you're pressed to provide something with them, you might offer complimentary tea lights or other small candles and include those in your price.
Mason jars make versatile decorations. You can paint the jar, wrap artwork around the outside, or repurpose old pages of newspapers or other publications to make some unique candleholders.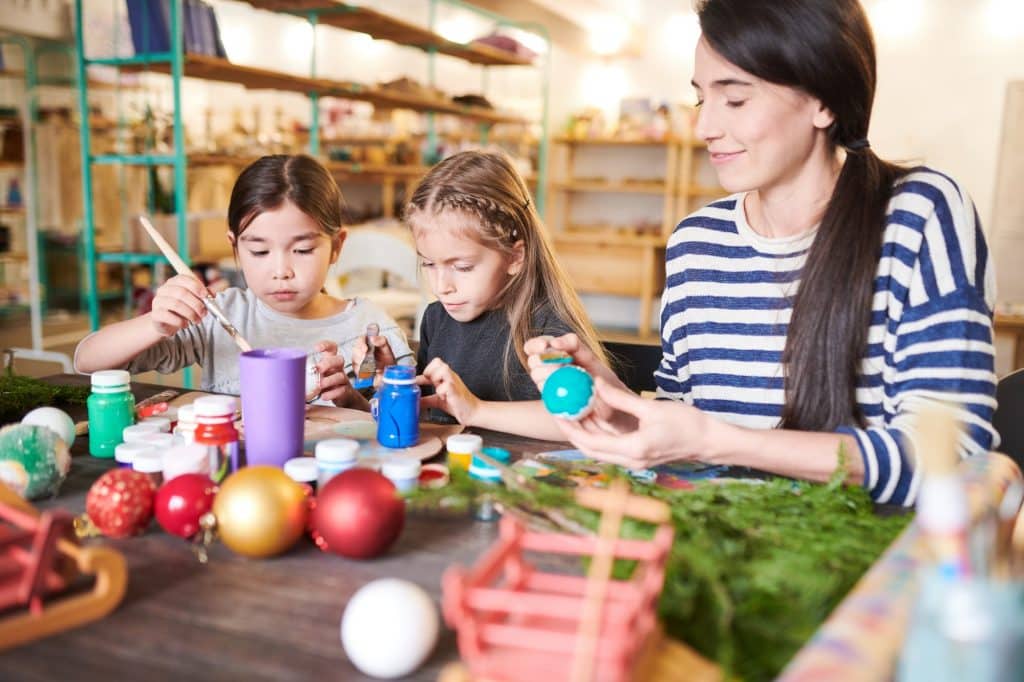 Assorted Ornaments
Looking for something cute that even the kids can help out with?
Personalized ornaments are a hit at market days—even more show if you have the space to turn it into a workshop where parents can drop off their kids and let them have fun decorating their own ornaments!
While you might not always have the space for this, check with the event organizer. I saw this one at one of our larger market days, where a few of the vendors pitched in to organize activities that kept the kids busy while their parents shopped.
Here are some ideas:
Resin Jewelry
You can make beautiful pieces with just a bit of epoxy resin, some decorations like beads and glitter, and colorants. Mica on its own can make beautiful resin jewelry. Swirl a little shimmering mica powder into your epoxy resin and let it set.
We've put together this resource list to help you find some kits and decorations to get started with. And if you already know what you're doing, we've also included the stuff outside of kits, starting with the best epoxy resins to use in your crafts for a faster set!
Click here to check out our post on resin jewelry making supplies and resources. And if you're not a fan of resin but want some ideas on jewelry, we also have a post on making jewelry with beautiful tumbled stones.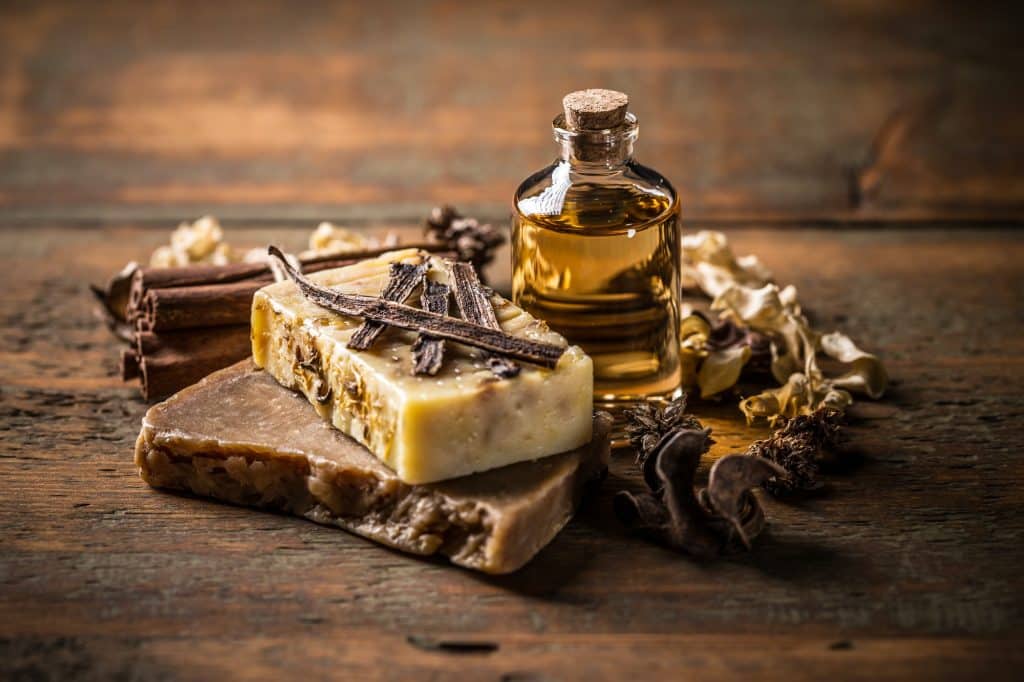 Homemade Soap
Homemade soap makes a great gift, especially when your usual favorites are in short supply.
Soap usually isn't my go-to for larger holiday markets, as you'll often be competing with lots of other vendors with soap and a few that specialize in only soap. However, if you're in a smaller community, handmade soap might be a little more hard to come by.
I've put together a few beginner-friendly guides on soap-making supplies. Here are a few to start with:
Roll-On Oil Perfume Blends
Lastly, these are probably some of the simplest things to make, but they're my biggest hits at holiday markets—roll-on oil perfume!
Essential oil fragrances are a great alternative to expensive store-bought fragrances, and it's easy to customize them right at the market as you sell them. Customers look forward to getting their favorite oil blends every year, and it's easy to take custom orders in advance.
If you're mixing there at the market, this is best for single-EO blends, as fragrances can change after they've had a bit to settle with each other. However, if someone knows what they want, but you're out of stock, it's easy to mix up onsite.
My biggest holiday blends often involve combinations like:
Patchouli, sandalwood, cinnamon bark, clove, and orange
Cinnamon, clove, orange, and Balsam of Peru
Peppermint, Balsam of Peru, and orange
Peppermint, eucalyptus, cinnamon bark, and lavender
Check out our guide on roll-on oil perfume here.
Tag a friend (or your market buddy) who could use some craft ideas. It's always easier if you have someone there to help you out—especially if some of your crafts are done on site!
Have a favorite holiday craft you'd like to share? Feel free to let us know in the comments!