Are you toying with the smart idea of starting a candle making business at home?
Most people start making candles as a hobby. But what makes this pastime remarkable is that you can quickly turn it into a side hustle, part-time, or even full-time business if you want to.
Becoming an entrepreneur comes with a few perks, such as:
Having the time and freedom to do enjoyable work
Spending lots of time with your loved ones
Build and then invest heavily in something you actually own
Determine your day-to-day activities and schedule
Be your own boss/sole proprietor, etc.
As a candle-maker, you need to be pragmatic, pay close attention to every sensory aesthetic of your product line. And you need to be able to entice buyers via smart marketing tactics.
Do you know that handmade crafts—including candles—are some of the fastest-growing and highly profitable small businesses in the United States?
According to reports released by the National Candle Association, sales of candles in the United States are estimated at $3.2 billion per annum.
Research also shows that at least 7 out of 10 households in the United States candles. Many people love high-quality handcrafted products and are always willing to support locally-owned businesses.
There is no doubt that branded candles will continue to be part of today's most popular home décor items.
Moreover, starting a candle making business at home can be incredibly easy. You don't need to rent space or a lot of equipment that will take up a lot of space in your home.
All you need are high-quality candle making supplies, a safe workspace, and a few tools. And of course, once you learn the entire process of making candles at home, it's practically a walk in the park.
To cap it all, launching a candle making business at home is an automatic qualification to join a community of fellow handcrafters and entrepreneurs where you can readily share knowledge and resources.
In this guide, you will learn how to start a profitable candle making business at home. You will also know whether you should create a DBA/sole proprietor or LLC.
But first, let's start with the basics, the most important of which is a business plan.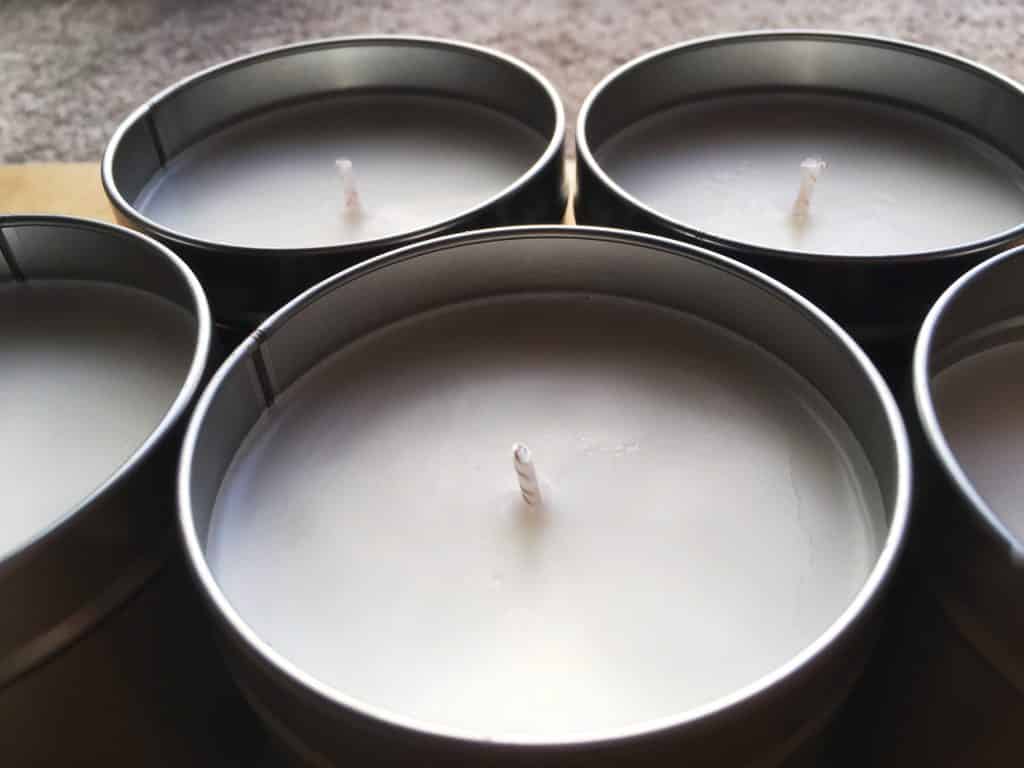 Why Do You Need a Business Plan for Your Candle-Making Business at Home?
Regardless of how big or small your business is, it's critical to create a business plan. A business plan will help you establish the core foundation of your brand.
This opens up your mind to think more about the future and how much you want your candle making business at home to grow. This way, you'll be able to make adequate plans or take steps to build a robust framework for success.
The idea of creating a good business plan may look somewhat intimidating, but it doesn't have to have all the bells and whistles that big business plans usually come with. Moreover, your business structure and objectives may likely change or adapt over time.
So, view this business plan as a very flexible blueprint that you need to get started.
Defining Your Product Line
This is where you get to decide the kind of candles you want to make, design, or sell. If your creativity and materials are not sound, your designs may be limited.
Here are some options you may consider:
Unity candles for use as wedding centerpieces.
Candles crafted into customized shapes like sports or animal figures.
"Good luck" candles
Candles with embedded jewels and other decorations
Church candles with colors that match liturgical seasons
It's also possible to distinguish or differentiate your product line, based primarily on the type of materials you use or choose. For instance, you can decide to make your candles primarily from soy wax, beeswax, gel, or other specific materials.
Making container candles using antique glassware, barware, decorative tins, or shells may be your idea of something that stands out from other sellers.
You can develop a custom scent or specialized colors. You may even decide to embed ribbons for wicks, insert them lengthwise in shallow candles or upright in tall candles.
All these are excellent ideas to consider. However, take note of your bestsellers. Take it from there and begin to expand your product line.
Stay Legal and Safe
It is essential to stay legal; therefore, do your best to become fully informed about your city's zoning laws. As you run your candle making business at home, you will be working with some flammable materials. Proceed with caution!
Research your city fire codes. Contact or speak with your insurance rep. Get your hands on every essential permit you need. Don't give room for the authorities to say you are operating outside the law and hit you with a lawsuit.
How to Start a Candle Making Business at Home
This is where it gets interesting. You are about to learn how to start a candle making business at home. Follow these steps carefully:
Naming Your Candle Making Business
Choosing the right name for your candle making business is vital, but it can also be somewhat challenging.
You should have a name for your business in mind, but if not, go online to use any of the free business name generators you can find. You may not use the suggested names verbatim, but at least, the names from these business name generators will get your creative juices flowing.
If you plan to run a sole proprietorship/DBA, it is highly recommended that you operate your candle making business under a business name instead of your name.
You can start an LLC, but it depends significantly on how much you project making in the beginning.
Of course, establishing your candle making business at home as an LLC will help protect you from being held liable (personable) if your candle-making business gets sued. You have to be more careful and make sure you completely separate your assets (including income) from your business.
As a beginner, sellers tend to stick to sole proprietorship/DBA. However, when registering your business name, put a lot into researching your ideal business name.
Make sure you check the following when researching the business name for your candle making business:
The state's business records
Social media networks
State and federal trademark records
Availability of web domain
If you can secure your domain name before any other person does, it will make it easier for your customers to recognize and recommend your brand to their friends.
After successfully securing and registering a domain name for your candle making business, proceed to set up a professional, domain-laden email such as mycandlebiz@yourdomainname.com. This helps make your business look more professional.
Set Up or Create Your Workplace
Your workplace needs to be well-lighted and a heat source that doesn't rely heavily on open flames. You also need a lot of room that allows you to create an assembly process.
Having adequate storage space for all your supplies is also essential. You need a climate-controlled environment that will enable you to store your finished candles while another area should be segmented for packaging the finished products.
Buy the perfect or recommended type of fire suppression system or fire extinguishers, as hot wax and other materials you'll work with are volatile. Don't risk having an accident if you don't have a sound fire suppression system in place.
Create a List of Supplies
Every accomplished candle maker has some supplies they rely on when crafting their candles.
Stocking up on quantities also makes sense, especially if you receive unexpected orders and don't have the time to dash to the local store or get in touch with your supply vendor to purchase those items.
Here are some of the supplies a regular candle maker will need:
Dyes
Molds
Luster spray
Double boiler
Measuring instruments
A weighing scale
Thermometer
Additives
Leak-proof containers for candles
Packaging materials such as cardboard boxes, masking tape or scotch tape, etc.
Looking for recommendations on specific supplies and equipment? Check out our list here.
Pick Out Your Supply Vendors
Most beginners at candle making buy their supplies from the nearest local hobby stores.
But as your candle making business at home grows, seeking out high-quality wholesale vendors is advisable. It is generally more cost-effective to purchase your products from select and reliable vendors.
Furthermore, new offerings that vendors bring to the table is an excellent indication of industry trends.
How to Make Money with A Candle Making Business at Home
This is where the main work is after you must have created your candles. You should have a target audience in mind that needs the type of candles you're selling. Some customers are interested in sensory experiences, while others are pragmatic shoppers.
Consider shoppers that are mindful of sustainability and what goes into their candles. Sustainably sourced wax and essential oils would be more appealing to this type of customer. On the other hand, if your customers are only interested in the best price, consider finding alternatives to offset the cost.
Next, establish your presence as a candle maker on online marketplaces like Amazon Handmade, Etsy, eBay, or even your own website. Do you now see the importance of securing your web domain as discussed earlier?
You should also consider additional arts and crafts sales platforms such as ArtFire and others.
Conclusion
And that is how to start a candle making business at home. As you can see, you don't have to break the bank to launch this dream business from home.
Just make sure you stick to the rules of the online marketplaces where you sell your products, get the necessary permits or licenses, and create stunning and customized candles. With the right products, good marketing, and a little time and effort, you'll soon start making a good income and go from hobby to business.