Looking for ideas on what to cook for the holidays?
From savory dishes to holiday sweets, here's a list of some recent favorite holiday cookbooks, with some options for vegans and keto dieters as well.
These also make perfect gifts for the foodie or home cook in your life! While they're primarily aimed at beginner cooks and bakers, even the more experienced cook can find inspiration from the wonderful recipes in these books.
A Literary Holiday Cookbook
A Literary Holiday Cookbook: Festive Meals for the Snow Queen, Gandalf, Sherlock, Scrooge, and Book Lovers Everywhere is the perfect gift for your resident bookworm. These recipes are simple appetizers, meals, and desserts that are easy for anyone to follow.
It also includes some edible gift-giving ideas and festive sips you can serve at your next holiday gathering.
Here are some favorites:
Chocolate Profiterole Christmas Pudding—A Christmas Carol
Mrs. Beaver's Potatoes—The Chronicles of Narnia
Arctic Trail Coffee Muffins—White Fang
Beorn's Honey Nut Banana Bread—The Hobbit
Leek and Potato Soup—Redwall
Herbed Mushroom Puffs—Alice's Adventures in Wonderland
Apple Rose Tartlets—The Phantom of the Opera
And if you enjoy this book, you'll also love A Literary Tea Party, so you can curl up with your favorite book and a matching cuppa!
The Great British Baking Show: Love to Bake
This is the Great British Bake Off's best collection, with delicious recipes from throughout the series. (And if the show really gets you in the mood for baking, the beautiful pictures in this book have a similar effect!)
There are plenty of treats like Chai Crackle Cookies, Sticky Pear & Cinnamon Buns, and Butterfly Cakes to satisfy your sweet tooth. But you also have plenty of warm, delicious, savory things, like Chicken and Leek Pie. (You can also try your hand at homemade bread with their recipe for sourdough.)
Love to Bake contains plenty of recipes to remind us that "baking is the ultimate expression of thanks, togetherness, celebration and love."
Baking with Mary Berry
Baking with Mary Berry is another great collection of sweet and savory baking recipes, right from the British "Queen of Baking!"
This book is perfect for bakers of all levels, but particularly beginner bakers. It contains clear, step-by-step instructions that walk you through from start to finish. As one reviewer stated, "if you can read, you can cook."
Even if you're more experienced with baking, there's lots of inspiration to be found in this wonderful book! Some of my personal favorites are the Mincemeat and Almond Tart and Plum Crumble.
The Pioneer Woman Cooks: A Year of Holidays
I came across Ree Drummond's blog around 2006/2007 on the recommendation of a classmate from my home economics class. Years later, I now have a collection of her books by this "accidental country girl."
One of my favorites is this holiday cookbook, with 140 step-by-step recipes that even someone who has never touched a stove could easily pick up. From gameday appetizers to smoothies for the new year, she has a little bit of everything in this book.
For a great holiday treat, give the Christmas Rum Cake a try!
Fix-it and Forget-it Holiday Cookbooks
Let's be honest, we all get a little busy—especially around the holidays. Sometimes it's easier (and better) just to stop fretting and throw it in the slow cooker. This collection of 600 slow cooker holiday recipes will help you do just that.
This range of cookbooks was a lifesaver, not just for the holidays, but for the weeks when I was putting in an extra 20 hours to meet shifted deadlines or to play catchup after the holiday break. It was easy to just throw everything on during the morning or early afternoon and not have to worry about getting dinner ready at a reasonable time!
These cookbooks focus more on packing lots of easy recipes into a single book—it's a simple books with all the holiday recipes you could possibly want, each with simple and easy-to-follow instructions. (It's pretty hard to mess up slow cooker recipes once you get to know your cooker.)
It also has some great information in the beginning of the book that helps you get to know your cooker.
While they're not as unpredictable as older ovens can be, some of them cook at different temperatures—and manuals don't always have a clear range of temperatures. This will help you test it out before you accidentally overcook a giant batch of food!
Cooking with Nonna: A Year of Italian Holidays
I came for the cheesecake recipes and stayed for just about everything else.
I didn't really consider myself a fan of Italian food until I got to know one of my neighbors—an older Italian woman who would eventually get me this book for Christmas and tell me I needed to "quit eating out and learn to cook a halfway-decent meal."
She would later rope me inviting me over to learn how to make cheesecake. (Someone noticed I made a few too many trips to The Cheesecake Factory!)
You'll find year-round treats in this book, like Christmas Fish, Struffoli, and a Cannoli Cheesecake that comes pretty close to the one she made! (And an amazing Spaghetti in Wine Sauce that I fell in love with.)
The Keto Holiday Cookbook
The Keto Holiday Cookbook has lots of delicious low-carb recipes that'll keep you on track—yes, even for the holidays.
You'll find over 100 recipes for keto breads, cookies, salads, pies, and more. These recipes include clear instructions that are easy to follow, and includes recipes with ingredients you probably already keep in your pantry.
If you're new to Keto, this book also has a bit of information in the beginning about what to eat (and what to avoid on a keto diet.
If you're put off by keto because you think it means going on a heavily-restricted diet, think again! The recipes in this book prove you don't have to skimp out on amazing food to eat healthy.
Vegan Holiday Cookbook: Festive Plant-Based Meals and Desserts
Whether you're a vegan or you just want to make sure the vegan in your life has something to eat at your family gatherings, this cookbook is for you! Even your non-vegan friends and family will agree—these recipes taste amazing.
You'll find 75 recipes for delicious, plant-based food that doesn't sacrifice any flavor whatsoever. From sweets like Pecan Caramel Pie to savory dishes Mushroom and Parsnip Soup, there's a little something for everyone here.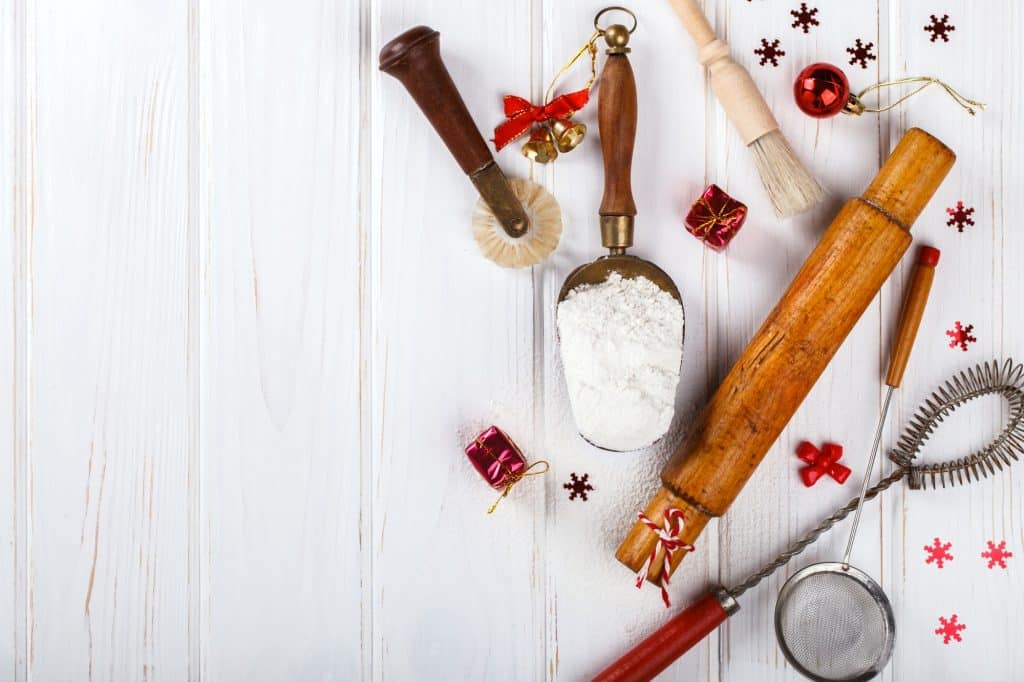 Looking for more beginner-friendly cooking and baking resources? Check out our posts on Cooking for Beginners and Bread-Making Tips for the Beginner Baker. Don't forget to tag a friend who'd love to try some of these recipes with you!